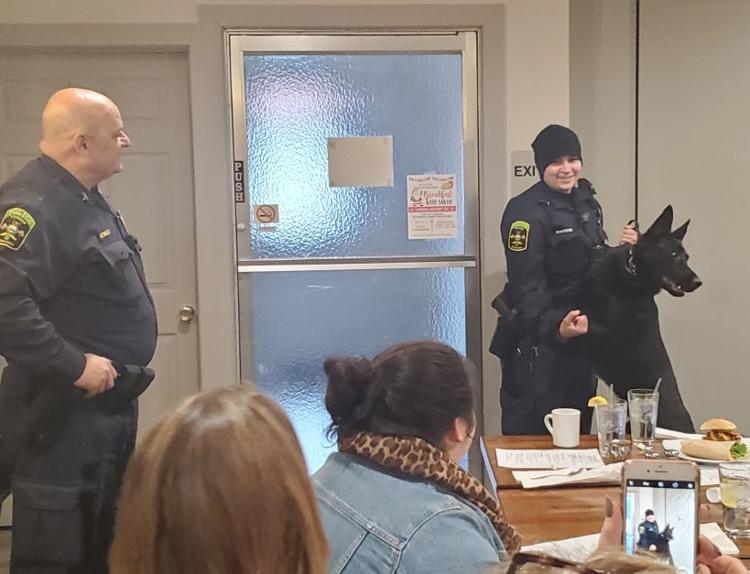 This week's Northern Blair Roundtable meeting welcomed Tyrone Police Officer Traci Winters and K-9 Getro for a demonstration and discussion about their past few months spent working together.
Police Chief John Romeo said that the department, with the help of the community, raised all the funds for the dog within five months. The amount was approximately $33,000, although getting a K-9 and unit was a $60,000 investment, including the vehicle, all related equipment, training, and initial veterinarian care.
Donors also graciously provided a "buddy bag" First Aid kit for Getro this fall through the K-9 Defender Fund. The bag includes basic first aid supplies and a specialized oxygen mask for the K-9, and two doses of Narcan.
Chief Romeo shared at the Roundtable meeting that it is believed that Officer Winters is the first female K-9 officer in Blair County. She attended an initial six-week training, but also trains twice a month locally.
Getro is trained to detect narcotics like marijuana, heroin, cocaine, and methamphetamine, and is working on detecting ecstasy. He also trains to track ground disturbance odor, which can help find suspects in certain cases. He can understand tones of voice and direct commands, some of which he has learned in German, English, and Czechoslovakian.
"It's pretty cool," said Officer Winters. "There is so much more involved than I ever thought would be."
Getro has already helped in many cases, including two trespasses/burglaries in abandoned houses, and the seizure of drugs several times. He can assist in the apprehension of criminal suspects as well.
"He doesn't have to just bite somebody," explained Officer Winters. "There are other things you can use the dog for — his mere presence, people see the car and a lot of people have straightened up. His presence and his bark have made people think twice."
"But you'd rather get punched in the nose than get bit by a dog," advised Chief Romeo.
On August 3, full-blooded German Shepherd Getro, who is almost 18 months old, became active with the Tyrone Police Department. He had been certified in two types of training before he came to the United States from the Czech Republic. Nearly all police dogs come to the U.S. from overseas, noted Chief Romeo.
Officer Winters enjoys her role with Getro and recognizes his importance as a trained K-9, and tries to protect him from anything that could be harmful at home or on the job. She demonstrated with him finding marijuana during the Roundtable meeting, explaining the process to approximately 10 people in attendance.
"Having a K-9 is a benefit to law enforcement and the community," said Sue Griep, chairperson of the Roundtable. "To have one in our community is such a benefit and has already helped."