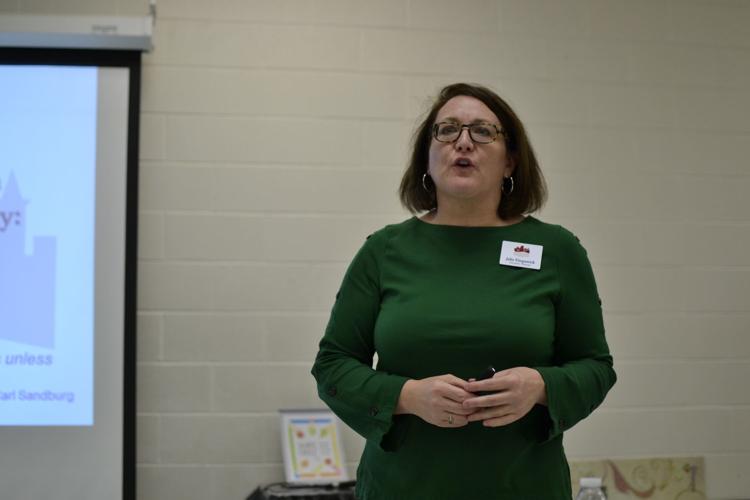 Huntingdon Landmarks Inc. leaders hosted the first of many meetings to discuss the revitalization plan for the community Monday evening.
The meeting mainly focused on opening up the discussion about what the community needs in terms of business, culture and economic growth. By focusing on what residents are looking for in their community, this discussion will help make decisions easier and allow changes to be executed in accordance to the communities wants and needs.
Landmarks Inc. board member Matt Price started off the meeting with a simple introduction about his organization as well as what the attendees can expect from these meetings.
"Huntingdon Landmarks Incorporated, which is a charitable nonprofit based in Huntingdon, was founded about 10 years ago or so, and our mission is to revitalize Huntingdon's landmarks in a way that makes them economically viable. It could be buildings, it could be monuments, it could be any landmark we can think of in the Huntingdon area. That's kind of what we're concerned with," he said.
Price said the organization is partnering with the Pennsylvania Downtown Center to help residents visualize and properly plan the expansion and growth of their community.
"We reached out to the Pennsylvania Downtown Center, which is a nonprofit based in Harrisburg, that is the administrator, statewide, for the Department of Community and Economic Development for the Commonwealth of Pennsylvania, and for the Main Street and Elm Street program. Main street is the downtown revitalization program and Elm Street is the neighborhood revitalization program."
According to Price, depending on the needs in Huntingdon neighborhoods and commercial businesses, both programs may be considered for the area.
These meetings will give residents the opportunity to have a say in the future of Huntingdon, as well as the development of the downtown areas.
Julie Fitzpatrick, executive director for the Pennsylvania Downtown Center, wants the community to start coming together and coordinating all the projects that are taking place by other groups and organizations to create a cohesive community.
"Where this magic happens is in building consensus, theres a lot of different groups, different organization and different entities working on lots of different things, but you might not all be coordinating," said Fitzpatrick.
Although the community has many establishments and associations available to the area, all of them are competing for the same board members, fundraising opportunities, and grants to kick off their own projects.
"Our greatest strength is our greatest weakness. In our tiny little borough, we have a disproportionate amount of nonprofit organizations, and some might think that's great. You have the capacity, you've got the organizations, but unfortunately they're not talking to each other," said Fitzpatrick.
She wants to make sure everyone is on the same page in order to see results. She urged people to stay involved and participate in the public meetings in order to keep the initiative alive.
"We're going to have five public meetings. They're going to be held monthly, there's never a great time to hold a public meeting, but we're just going to do it and facilitate these meetings in November, December, January, February and March," she said.
The point of these meetings is to come up with commonalities from the locals perspectives and also what they want their community to look like in the future.
"When we look at revitalization, it is very grounded and rooted in historic authentic unique communities. We're going to work in core communities, work in boroughs, work in cities, work in historic older core centers," said Fitzpatrick.
Their mission statement is to build and support the capacity of local, nonprofit organizations, municipalities, and individuals to enhance the overall well-being and sustainability in Pennsylvania's core communities.
Fitzpatrick encourages residents to look into their favorite downtown areas and neighborhoods and think about duplicating what they're doing.
"In the Main Street community, it's R and D ... rip off and duplicate," she said.
On top of finding inspiration from other towns, Fitzpatrick explained that these plans are solely dictated by the residents. She says most times when a town fails to make changes it's because, "They're stuck in the past and still want the downtowns to be the community that their grandparents talked about when they were kids."
Their goal is to help the community create a vision that they will implement by using action strategy. Folks in attendance pointed out items the community is lacking in, like public transportation and walking distances, the lack of dining and retail options, as well as the lack of family-friendly events and downtown nightlife.
Fitzpatrick said the only way to make these improvements a reality is to connect with your neighbors, friends and family and get them out to a meeting.
"We just ask that you pass this on and share this with your network," she said.
For more information and latest updates about upcoming meetings, follow Downtown Huntingdon Opportunities on Facebook to join the journey from vision to revitalization.
The group's next meeting will be held at 6:30 p.m. Monday, Dec. 9. A location has yet to be determined.
Jordan Frederick can be reached at jfrederick@huntingdondailynews.com