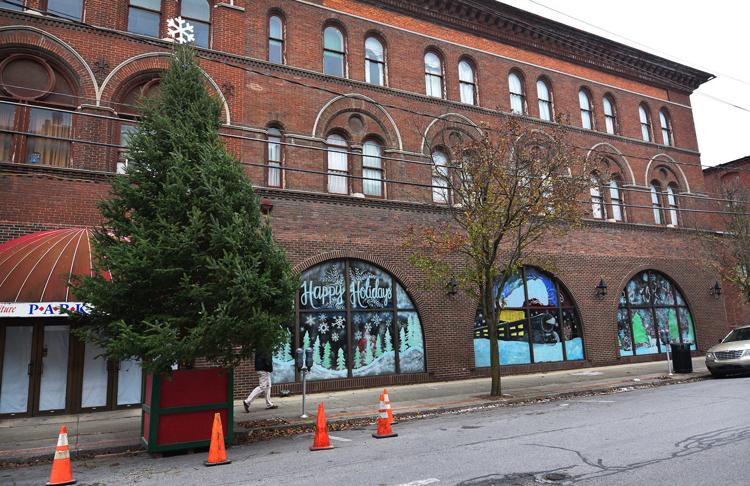 The Huntingdon Christmas Tree-Lighting Celebration will officially usher in the holiday season from 6-8 p.m. Friday, Nov. 30, with an abundance of family-oriented activities and fun to delight all ages.
A portion of Washington Street, between Sixth and Eighth streets, will be closed beginning at 4 p.m. as preparations for the festivities begin.
"We wanted to create an atmosphere that will become a tradition for families year after year," said Debbie Higgins, who co-organized the event with Deb Hickes.
Food vendors including Standing Stone Coffee Co., Sam's Hot Dogs, The Garlic Clove and Bickle's hot sausage and funnel cakes will open at 6 p.m. and carriage rides by Dayze Gone Bye, caricatures by Chip Mock and a photo booth by Wildside Productions will begin at the same time continuing through 8 p.m.
"The carriage rides will take off from the area across from the OIP at the Seventh Street intersection and will go up one block and come back around," said Huntingdon Borough Mayor Dave Wessels.
Mock's artwork, sponsored by Mutual Benefit, and the photo booth will be free to the public. Carriage rides are sponsored by J.C. Blair Memorial Hospital and will be provided at a cost of $1 with all proceeds to benefit the Huntingdon Food Pantry.
"The Hesston Community Chapel will be doing a Live Nativity," Hickes said. "The nativity will be surrounded by luminaries provided by Thompson's Candle Co."
Children can visit with Santa Claus at Sweetheart's Confectionary from 6-6:45 p.m. to share their Christmas wishes with the "Jolly Old Elf" himself.
The Huntingdon Salvation Army will be providing free hot chocolate to visitors as well.
"There are a whole lot of free events taking place along with the food vendors," said Higgins. "It's a great place to come for the evening, grab dinner and get into the holiday spirit."
Sounds of the season will fill the street as the Victorian Carolers of Take Note gather around the community Christmas tree to share favorite carols.
Students from the Huntingdon Dance Academy will entertain the crowd from 6:45-7 p.m. with scenes from The Nutcracker.
Huntingdon Area High School alumni familiar with the carol, "Lay Down Your Staff," are encouraged to join the members of the Belles and Beaus at 6:45 p.m. at the Medicine Shoppe prior to a procession to the Christmas Tree to open up the lighting event.
"It's the biggest tree Huntingdon has seen in many years," Higgins said.
The approximately 27-foot tall tree was purchased by Team Chevrolet and provided by Tuckaway Tree Farm near McAlevys Fort.
Around 7 p.m., Hickes will present a children's Christmas story, "Gander Finds Christmas," with live interpretation of the tale.
"A children's story, written by Deb Hickes, will be presented. Children of all ages are welcome to join her for that story," said Higgins. "That will be followed by a song that will depict the story as it is acted out."
After the tree and the downtown are officially lit, everyone is welcome to view "Elf" at Huntingdon Clifton 5 for a donation of a canned good to benefit the Huntingdon Food Pantry.
In keeping with the season of giving, the Huntingdon Borough Police Department will be leading an effort to fill a cruiser with donations for Toys for Tots. Both toys and monetary donations will be accepted.
Other holiday events taking place this weekend include the Huntingdon Community Center Christmas Bazaar today, Thursday, Nov. 29, through Saturday, Dec. 1; the Standing Stone Garden Club's Hometown Holiday Celebration "Woodland Wonders" at the Huntingdon Historical Society's McMurtrie House and the Huntingdon County Library Friday, Nov. 30, through Sunday, Dec. 2; Christmas tours of the Woods-Brown Mansion on the corner of 10th and Washington streets in Huntingdon from 11 a.m. to 7 p.m. ($5 admission with all funds donated to county food pantries) and the 26th annual Festival of Song at 7 p.m. Saturday, Dec. 2, at the Huntingdon Presbyterian Church.
The annual Huntingdon Area Christmas Parade will be held at 7 p.m. Saturday, Dec. 15.