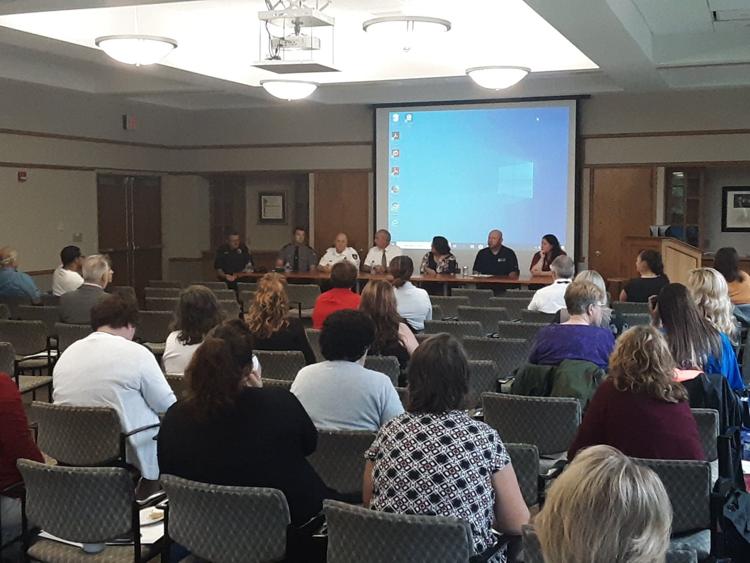 Juniata College hosted the James E. Van Zandt Mental Health Summit Friday, which focused its discussions around the topics of the suicide and the opioid crisis.
A panel of experts comprised of officials from the James E. Van Zandt VA Medical Center in Altoona, as well as local officials, spoke on the topic of the opioid crisis to start off the event.
Dr. Derek Coughenour, the associate director for operations at the James E. Van Zandt VA Medical Center, highlighted the importance of what today's event had set out to do.
"I thought a lot about today, and first I want to thank all the veterans in the room for your service. I think suicide, veteran and non-veteran, has touched nearly everyone in this room ... This week is suicide prevention week, and this event really gives us an opportunity to educate and work together to not just prevent, but eliminate, suicide. It's going to take everyone to battle suicide and the opioid crisis. There's only so many of us at the VA and we need everyone in the community to help," he said.
Juniata College President James Troha spoke briefly, pointing out the shared goals of the different organizations to the college's after thanking all the veterans present for their service.
"Mental health concerns for students who are currently going to college is probably one of the top three things that are facing us on a year to year basis. Maybe we can connect with some of the work that all of you are doing to provide some support we may need here," he said.
Rufus Brenneman, a magisterial district judge for Huntingdon County, talked about new measures the courts are taking to aid those struggling with opioid or other addictions.
"When someone comes to me they've usually hit rock bottom, or they're at the point where they need help," he said. "Something the courts are doing recently, we're doing a pre-diversionary program, where they're evaluating defendants prior to trial. Our probation department will do an interview with them and if there's a drug or alcohol or opioid issue we're going to try to get treatment to these people sooner instead of incarcerating them where they're not getting treatment maybe two, three months at a time. It's just in the starting phases, but the idea is instead of putting them in jail, maybe get them into a place where they can get rehab."
Jennifer Mock, a clinician working in the intensive outpatient program at the VA Medical Center, addressed the different options available for veterans experiencing mental health and substance abuse problems.
"We have structured 12 hours of group therapy every week, Monday through Friday. Veterans can come in any time and start treatment. We do not delay treatment at all."
The VA has residential treatments, as well. Mock noted that these facilities are often needed since a veteran's environment can often be a trigger for their drug use.
"In our VA program we have five residential programs, and across the 14 counties in our catchment area, we work closely with support in the community. That way, most of our veterans can get treatment within 24 hours," she said.
Dr. April Cope, clinical pharmacy specialist at the VA Medical Center, shared some of the other valuable programs offered to veterans.
"We know our veterans are up to five times more likely to have an opioid overdose. This is a huge issue we're addressing. From the substance abuse perspective, we have some comprehensive programs. Providing medication assisted therapy, providing psychotherapies, providing group therapies that are really essential for veterans to improve their health," she said.
Huntingdon Police Chief Jeff Buckley talked about some of the proactive steps the police department takes to battle drug abuse.
"Some of the first people we reach is within the school system. I have a school resource officer in the school everyday and we have education in the elementary level clear through the high school level about drugs and addiction, as well as many other things," he said.
They have also implemented a way to remove drug access from homes in town.
"Many times in my career, which it's over a 25-year career now, I've seen addiction start at home from the medicine cabinet. We now have a prescription take back box at the police station on Washington Street in Huntingdon and we've expanded it to have one at the Weis Market in Huntingdon. You would be amazed at how much we take off the street with just those two boxes. In a quarterly period it's not unusual for us to take 150 pounds of medication."
State police Troop G community service officer Trooper Joseph Dunsmore reminded the audience that these tragedies affect those who's job it is to help, too.
"Despite the uniforms that we wear everyday and the actions that we may take against certain people who may be struggling with these issues within the community, we're just people as well, and that's why I think it's very, very important for us to be here. I too have had those tragedies within my family, from suicides to overdoses," he said.
A panel spoke later in the morning specifically addressing suicide prevention, and in the afternoon a panel spoke about accessing care and special programs for veterans.
Nathan can be reached at nwoods@huntingdondailynews.com.