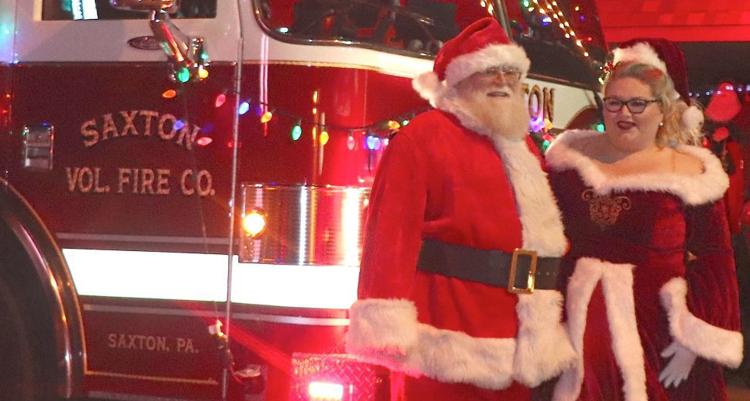 The Christmas spirit was alive in Saxton Thursday evening as 600 folks turned out to participate in the Changes in the Parkway (CHIP) committee's fourth annual Christmas program.
Crowds began assembling early on Lower Main Street in anticipation of the events that included the announcement of coloring contest winners, the arrival of Santa and Mrs. Claus, the lighting of the community Christmas tree and other festivities.
Serving as master of ceremonies was Saxton Borough Council president Lester Meck and borough mayor Alan Smith. Santa and Mrs. Claus were escorted through the streets of Saxton on Saxton Volunteer Fire Co.'s ladder truck.
Meck recognized members of Saxton Borough Council and Liberty Township Supervisors present at the event.
Meck thanked the jolly couple for making the journey to Saxton and wished them well. He introduced Smith who gave the couple an official welcome to the community.
"Isn't this wonderful? We got the real Mr. and Mrs. Santa Claus here in beautiful downtown Saxton, Pennsylvania! Let me be the first to wish you all a Merry Christmas," Smith told a cheering and jubilant crowd of residents of all ages.
Smith said the community has truly been blessed the past couple of years and there is much more to follow in coming years.
"The tree-lighting ceremony and the arrival of Santa and Mrs. Claus has truly become a special evening as we gather in a community with family, friends and neighbors to not only promote the excitement, enthusiasm, energy and charm of the holiday season, but to recognize the goodness of the people who have gathered here tonight.
From Saxton to Six Mile, from Robertsdale, Riddlesburg, Broad Top City, Dudley and Coalmont and all points between that we call home, let's recognize that we exhibit a great legacy. Let's use that legacy as a time for caring and sharing and let's pass that legacy down to the children here tonight so that we can continue to live in harmony and fellowship for years to come," Smith said.
Smith acknowledged the CHIP committee for decorating the parkway and making it a very special place during the Christmas holiday. This has been a great year and 2019 has much more in store," concluded Smith.
Following the festivities, Meck shared Smith's enthusiasm and thanked the CHIP committee for once again doing a super job. He said he really appreciated White Jenkins Johnson Insurance Agency providing popcorn and Martin General Stores providing hot coffee and hot chocolate.
"It's really nice when the community comes together for this. Despite the cold weather, I'm really glad to see such a great turnout for this event because the CHIP committee really puts a lot into it to make it happen," he said.
CHIP committee chairman Travis Chamberlain said he was pleased with Thursday evening's turnout. Like Meck, he was hesitant in what the weather produced and although there was a biting wind present, he felt the event went as planned.
Chamberlain took the opportunity to thank all who make Christmas in the Parkway what it is. From planning to decorating and most importantly, all those who came out and supported the event.
The Christmas event, he said, is the committee's last event for 2018. The committee has already started focusing on its 2019 murder mystery dinner production, "Murder at the Chalfonte" that will take place Saturday, March 9, at the Saxton Fire Hall.
There will be 150 tickets will be available for the event, which go on sale Jan. 6, 2019. Those interested in purchasing tickets can contact committee member Cindy Baker at 635-3232 or bakercindy@comcast.net.