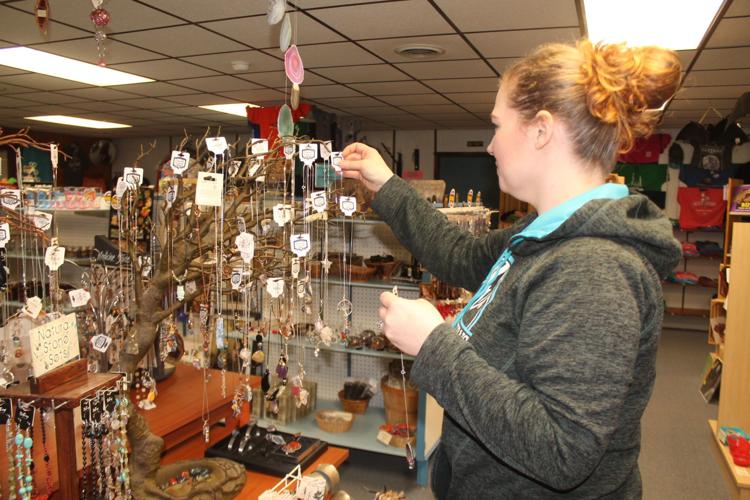 Now that the holiday shopping season has officially begun, local merchants encourage people to shop in their own community to support small businesses and, in turn, the local economy.
Shoppers will have the opportunity to do just that tomorrow, Saturday, Nov. 24, also known Small Business Saturday.
At Lincoln Caverns, owner Ann Dunlavy said they are having their end-of-season sale, with 25 percent off all merchandise in the gift shop with purchases of $20 or more, which will be good through the end of the year.
While folks may not think of Lincoln Caverns as a stop for holiday shopping, they offer unique gift items that can't be found anywhere else.
"We have rocks, fossils and crystals that last forever," she said. "It's not something that's purchased today and gone tomorrow. We also have gift certificates for special events and other things.
"It's not like shopping in a mall," Dunlavy added. "We have things like rocks, minerals and lots of jewelry made from those items. We also carry a lot of books on geology, books on Pennsylvania and special interest books. With no book store in the area, we are the only place that sells those types of books."
Dunlavy said people come from beyond Huntingdon County to find items at Lincoln Caverns.
"There's really nothing between Harrisburg and Pittsburgh that has the selection we do, so we have customers from all over the place," she said.
Carla Walker, owner of Walker's Homestead Goods in Rockhill, said she's planning something special for Small Business Saturday.
"We will be having a Small Business Saturday sale," she said. "In mid-December, we will be having a customer appreciation day, as well as a Santa day."
Walker added items found at Walker's Homestead Goods make great gifts and can't be found anywhere else.
"Our store is filled with unique items that our customers love when decorating their homes for Christmas, like beautifully designed handmade wreaths and floral designs," she said. "We carry a great mix of farmhouse and country style décor items such as lanterns, shelving, candles and signage. Unique gifts and great 'old finds' add a layer of interest to the store."
She believes that supporting a small business helps to "build stronger relationships with business owners and customers."
"We truly value our customers and thank them for supporting our small business," said Walker. "We love small town businesses and the importance they bring to the community."
Just a couple of blocks over at Grandad's Workshop in Rockhill, owner Matthew Scott doesn't have anything particular planned for Small Business Saturday, but he has one-of-a-kind gifts available for purchase.
"I have a lot of Christmas décor, and we do refinished and refurbished furniture," he said.
Scott said supporting small businesses for Small Business Saturday, or any other time of year, not only helps him as a business owner, but helps those who create the items for purchase.
"Some of our items are handmade by local craftsman," he said. "It's a way to not spend money on gas when you can get something for roughly the same price without the distance to travel."
While many stop at Cassville Country Store to pick up grocery items or enjoy a quick bite to eat, many may take advantage of the other items that can be purchased as gifts there.
"I have a craft and book swap section," said Betsy Whitsel, co-owner. "I have candles, tarts and some homemade afghans and potholders. We also have things like tailgating chairs, homemade scarves, as well as signs and crafts. Also, since we have a sporting goods section as well as a restaurant, it's a big weekend for us as deer season approaches."
Whitsel said when she and her husband, Mark, opened the store 10 years ago, she felt it was important to "live here, work here and play here," as much as possible.
"It's like a circle, and it starts small, and then it spreads," she said. "I employ 15 local people, and they all live here, work here and play here, so if they support me, I can support them, and we can support the county.
"It's been my motto since we moved here," Whitsel added. "It's not just employing the people, but if you live locally, work locally and play locally, you can help others do the same."