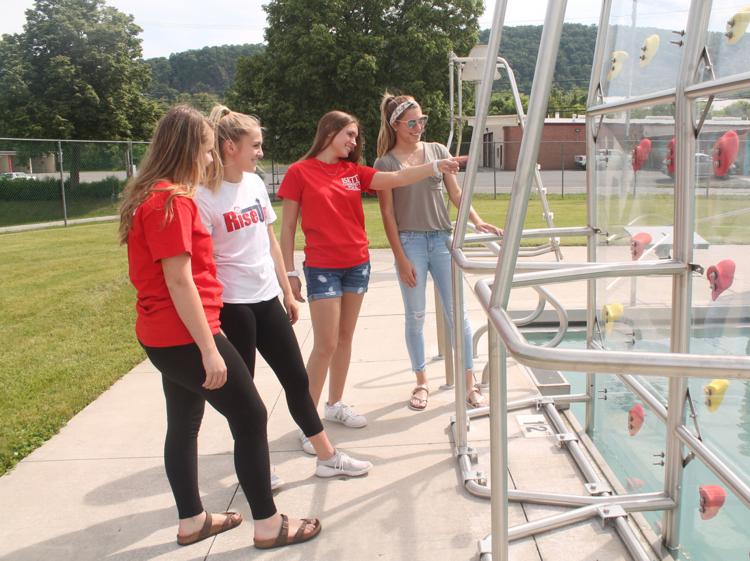 Some area pools in the county will be opening today in time for the first weekend of the season.
Those heading to the Isett Community Swimming Pool in Huntingdon Borough will have new things to look forward to when they open for the season at noon today, Saturday, May 25.
Mary Ann Buckley, pool manager, shared her excitement for the new events happening this weekend.
"We have a climbing wall that was just built so people can enjoy a little bit of extra fun," she said. "We will also have the blowup obstacle course, which came at the end of last season, and it will be there Sundays and Mondays this year."
The newly installed splash pad, spray park, as they're calling it, will be fully operational very soon.
"This is the biggest addition and the most exciting for the young population," she said. "It's designed for kids between zero and 6 years of age who aren't quite ready to swim, but want to enjoy time in the water. We expect to have everything up and running by next weekend."
The donations for the improvements, including the splash park, were made by Melvin Isett.
"He does it in memory of his late wife, who often swam in (Standing Stone Creek), and they both wanted it to be possible for kids to enjoy the water without going to the creek to do it," she said.
For those who want to use the climbing wall, there will be an additional charge.
"When people come into the pool, if they want to use it, they will have a wristband, and we will ask them to listen to all of the rules before they can climb," said Buckley.
Though membership fees will stay the same this year, prices to rent the facilities have increased so more staff can be added during after-hour events and other daytime events.
Last summer, a mural was made on the wall as one enters the pool grounds by Elizabeth Speck, a Huntingdon Area High School student who made it as part of a National Honor Society service project.
But, Buckley said a great crew of staff and lifeguards have been assembled to make this summer a memorable and fun one for all who use the pool facilities.
"The staff is what makes the pool so good," she said. "These are amazing kids who do such a great job with interacting with the public and welcoming people to the pool."
The American Legion County Club near Mount Union is launching into the 2019 pool season at noon today, Saturday, May 25. Opening day will be a low-key affair, club staff say, while reminding the public to watch for announcements for special events over the course of the summer.
Hours are noon to 7 p.m. daily, unless preempted by weather or other circumstances. Snacks, soda pop and hot dogs are available.
The 234,000-gallon pool was built in 1928 as part of the original Juniata Valley Colony Club, now operated by American Legion Post 103. Since then, several generations of Mount Union area residents grew up swimming, diving and splashing their summers away in view of the wooded hillsides that encircle the club property.
"Some of my favorite memories as a kid were at the country club pool," Gretchen Crouse of Mount Union said. "My sister and I spent countless hours there during the summer. As I got older, I loved the diving board and the trying different tricks and dives."
She also recalled how the summer season wrapped with a party and one particularly memorable competition.
"For the last event, everyone jumped in and tried to wrestle buttered watermelons out of the pool," she said.
Now a parent, Crouse said she looks forward to watching her daughter enjoy summertime in and around the ALCC pool.
"As my own daughter gets older I can't wait for her to have those same memories," she said. "It's so wonderful how people have worked so hard and taken so much of their own time to make sure the pool continues to make those memories for others."
One-day and two-day passes are available, as are seasonal passes for individuals and whole families. In addition, the pool is available for birthdays and other celebrations by appointment. Membership to the pool and to the club are separate.
Karen Flasher, manager of Three Springs Community Pool, said the tentative opening is from 1-6 p.m. Saturday, June 1.
This year will be the 50th the pool has been in operation for those who live in the southern portion of the county.
Plans are in the works, and Flasher encourages folks to follow the Three Springs Community Pool Facebook page for details.
"I think we're going to have a community night with a birthday cake, but I haven't gotten that date set yet," she said.
One event set is a splash hop, complete with a DJ, from 6:30-9:30 p.m. Saturday, June 22.
Those who want to take swim lessons will have an opportunity to do so from July 15-20, but Flasher wants people to contact her for availablity.
Additionally, people are also able to rent the facility after hours from 6:30-9:30 p.m. as well as rent space during regular pool hours.
Memberships are also available at the pool. For more information about rentals, swim lessons, events and memberships, contact Flasher after 5 p.m. at 448-3057.
Mapleton residents will have to look outside of town for a refreshing swim on hot summer days, at least until repairs can be made at the community pool.
Mayor Mike Corbin said in addition to repairing a leak and replacing a filter tank, the pool is also in need of volunteers to help operate the facility and manage fundraising efforts.
"I wish we could salvage some of the season but unless a bunch of people volunteer and a bunch of money comes our way, it will not happen, Corbin said.
Built in 1948 as a gift to the community from the Pennsylvania Glass Sand Co. — now U.S. Silica — the swimming pool is the one of the highlights of summertime in Mapleton and serves a a venue for a number of community events.