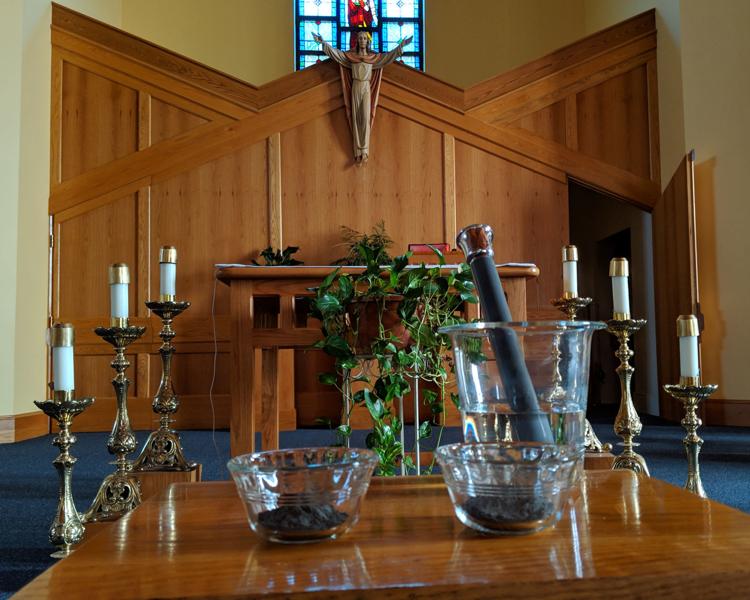 Today, Ash Wednesday, March 6, marks the beginning of the 40-day observance of Lent a period of introspection and recommitment for Christians around the world.
Preceded by Mardi Gras (literally translated "Fat Tuesday"), Shrove Tuesday or Fasnacht Day, the Tuesday prior to Ash Wednesday was developed as a way to celebrate ahead of the solemn observances and to use up more decadent ingredients cast aside during Lent.
"Historically, Lent has been viewed as a time of reflection," said Rev. Angelo Valle of Christ Reformed Church, Alexandria. "Sometimes, people use it as a sort of spiritual detox."
While not universally practiced throughout all of the Christian faith traditions, the practice of setting aside the weeks preceding Easter is observed by Catholics and Protestants alike with many beginning their Lenten journey with the imposition of ashes.
"The ashes are a reminder of your mortality," said Todd Christine, pastor of the Trough Creek Valley United Methodist parish. "As it says in the scriptures, we come from dust and will return to dust. We are mortal on this earth. The good side of that is the hope we have that we are going on to eternity. It reminds us of where we come from, and at some point, we will die. But, if we know Christ, we will be raised as he was raised."
"Ash Wednesday is a day that signals the beginning of this time of preparation in the church. There is a profound call to look inward," said the Rev. Father Mark Reid of Most Holy Trinity Catholic Church, Huntingdon. "Much of the church year is a call to look outward in prayer, liturgy and song, and Lent still has that aspect, but it is a profound call to look inward, put on a cloak of humility, delve deeper and grow spiritually as we journey to the cross."
The ashes administered to the foreheads of the faithful on Ash Wednesday are the remains of the palms from the previous year's Palm Sunday service, a stark reminder of the celebration which met Jesus's entry into Jerusalem one week before his betrayal and crucifixion.
"The season of Lent is a time to do a number of things," said Rev. Ed Seeley, pastor of Orbisonia United Methodist Church. "It's a time of preparation for the resurrection of Jesus Christ. It's also a time of introspection and walking with Christ toward the cross. As you do that, you begin to look at your own Christian walk. It's a time for more intensive reading of God's Word. It's a time to grow closer to God."
Ashes are also symbolic of repentance throughout the Bible.
"People often utilize Lent as a period to remember they are but ashes and dust, which is a call back to the curse in the Garden of Eden," said Valle. "It is a reminder that we are mortal and our lives should reflect that and we should utilize our lives well in serving the Lord."
While there is no clear scriptural representation of Ash Wednesday or Lent, the practice traces back to the earliest days of Christianity when the Lenten period was also a time of preparation for those seeking to be baptized into the faith, which would take place Easter Sunday.
"During the Middle Ages, Ash Wednesday and Lent became something of an obligation," Valle said. "Reformed churches have often seen it as a form of liberty. Lent isn't commanded in the Bible, but it also isn't forbidden."
Ash Wednesday continues to be a day that draws many faithful to church.
"Ash Wednesday is not a holy day of obligation, but it is one of our most highly-attended non-obligatory days," Reid said. "This is more of a devotional day to signal the season."
For this reason, many Christian faith traditions do reflect some sort of Lenten observance, whether it be fasting, special services, Bible studies or a call to introspection.
"Lent, in particular, is focused on Jesus' perfect, active obedience and how he garnered our salvation through his righteousness," Valle said. "People often use these days to prepare for Easter."
"It's a time of self-reflection. There are many practices within the Church, like a time of reflective study, taking on a discipline like fasting or adding different items to one's routine like more prayer or attending special services," Christine said. "It's a call to personal growth and personal reflection to ready the heart of the believer for the resurrection."
Christine emphasized that Lent is not intended to be a time to strive for perfection through adherence to self-imposed rules.
"It's a time when we look at our own lives and ask ourselves where we are falling short," he said. "It's not that we can live in perfection through legalistic doctrine, it's a search into the soul."
Local Ash Wednesday services will be held at churches throughout the county today, including:
— St. John's Episcopal Church, Huntingdon, at noon and 7 p.m.
— Cassville Lutheran Church, 309 Seminary St., Cassville, at 6:30 p.m.
— 12th Street United Methodist Church, Huntingdon, at 7 p.m.
— Alexandria Presbyterian Church at 7 p.m.
— Shirleysburg United Methodist Church at 7 p.m.
— St. Matthew Lutheran Church, Entriken, at 7 p.m. The offering will benefit the Southside Elementary School backpack program.
— St. Luke Lutheran Church, Mount Union, at 7:30 p.m.