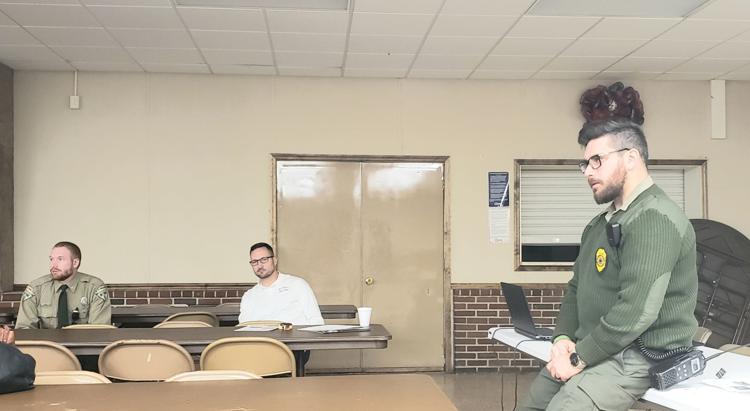 Only members of the newly-formed Friends of Trough Creek and Warrior's Path State Parks and Saxton Borough Mayor Alan Smith attended a meeting Thursday evening to discuss the future of the two parks.
The group heard from park manager Joe Basil who introduced Ryan Donovan, office III assistant regional park manager and park ranger Luke Stake.
Basil said the purpose of the meeting was to discuss survey results from a state Department of Conservation and Natural Resources (DCNR) Bureau of State Parks Penn's Park for All" planning initiative. The goal of the initiative is to help guide Pennsylvania's state park professionals in carrying out the important work of caring for the 121 state parks in the state's system for the next generation.
Basil said the first step of Penn's Park for All involved conducting several surveys from June to October in 2017 to see how Pennsylvanians feel about present issues regarding the state park system. A total of 14,276 surveys were returned via electronic, regular mail and telephone surveys.
Surveys are still being accepted until Dec. 31, 2019. Final survey results will be available in summer 2020.
Other initiatives of the study are to help the state determine which parks are being bother over and under utilized. Warrior's Path is one being underutilized.
While state residents are requesting additional state parks, Basil said if additional property is acquired for them, there is no additional funding allocated for them. State park officials, continued Basil, will never close a state park since those lands are the most protected lands in the state.
Additionally, he said with 10 million more people using Pennsylvania's state parks, more employee's to operate them taxes an already tight budget situation. But the survey will allow state officials to hear what the public is thinking.
Future things planned at Warrior's Path include a soft boat launch for kayakers that has already been installed but is not quite completed. Basil said some complaints have already been received as to the location of the launch but said the site chosen to locate it was the best one.
Friends group members agreed they will come to the park within this month and help remove some unwanted vegetation. Other items planned at Warrior's Path include the replacement of a restroom there with a new modern facility like one recently installed at Trough Creek.
Basil said DCNR officials continue to monitor the Rails-to-Trails project involving the right-of-way of the former Huntingdon & Broad Top Railroad that was just completed to the "Red Cut" area in Liberty Township. When the time comes that a connection is made from the trail there to the entrance to the state park will be extremely important to future development at Warrior's Path.
At Trough Creek, future plans include the proposed relocation of a gate near Pavilion No. 5 closer to the Great Trough Creek stream for better access for kayakers. A small restroom at Trough Creek that was recently destroyed by falling trees from a wind storm will not be replaced.
Additional educational programs are being eyed for both parks next summer. The completion of a long awaited gabion basket stabilization project initiated in 2017 was finally completed, Basil reported.
Basil said plans are also in the works to switch buildings with DCNR Forestry officials and to raze former Civilian Conservation Camp (CCC) buildings to give better view to the old Paradise Furnace located on park property. He said it is a hope the old furnace can receive some rehabilitative attention to make it once again safe to approach to allow park visitors to learn of its history.
Smith asked what long-term goals are planned at Warrior's Path. Basil said perhaps with the Friends group assistance the "lower road" there could be reopened and utilized as a hiking-biking trail. Park officials are also optimistic that overnight facilities could be developed at Warrior's Path.
He said the biggest deterrent for both parks is lack of Internet-WIFI which in some cases might not be a bad thing to some park visitors wishing to escape the electronic world.
Surveys results collected so far indicate park patrons would like to see trails improved and maintained, an Americans with Disabilities (ADA)-approved kayakers launch installed and increased large family camp sites be created. While more modern accommodations were requested at both parks, Basil said these are merely "wish list" right now.
Addressing all state park infrastructure problems are other items addressed by the survey. At Trough Creek and Warrior's Path, Basil reiterated that additional available educational programs and working closely with the Friends group are key tangible goals.
Smith said both Saxton Borough Council and Liberty Township Supervisors are anxiously awaiting working with state park officials to improve things at Warrior's Path. Future development, he said. will also bring more people to the Saxton-Liberty Township area.
Basil agreed stating a partnership and good working relationship with municipal officials surrounding both parks is desired.
Adam can be reached at dnews@huntingdondailynews.com.