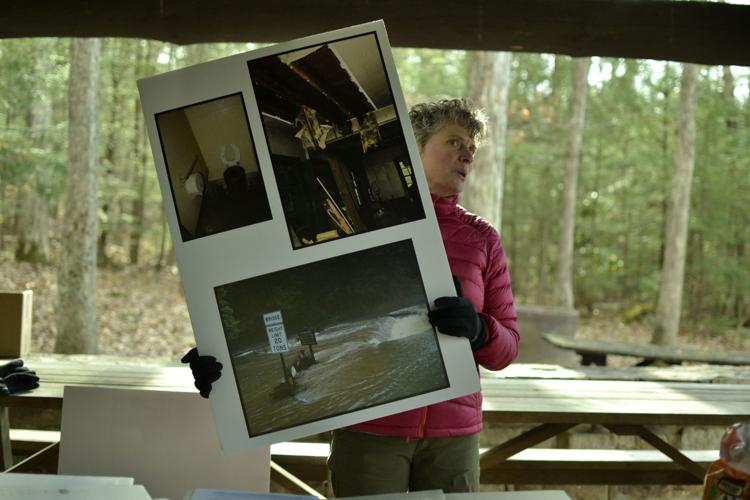 Earlier this year the Pennsylvania Parks and Forest Foundation (PPFF) released a report detailing the importance of maintaining the needs to state parks and forests. Wednesday, the PPFF hosted a walking tour at one of those parks, Whipple Dam, inviting stakeholders and legislators to come together and discuss the needs in our local area.
"The reason we're doing these tours is, about a year ago, we received a grant to do a study on the maintenance and infrastructure needs in our state parks and state forests and what we thought was going to take three months took a year to research and write. What we came away with was a detailed analysis of the maintenance and infrastructure needs of our parks and forests, and what we found was that there is a billion-dollar need for maintenance and infrastructure investments in both our state parks and state forests," said Marci Mowery, president of the Pennsylvania Parks and Forest Foundation.
According to Mowery, costs will be equally split between both parks and forests about $500 million each.
"The other thing that became very apparent during the course this research and writing is that we've been chronically underfunding operations and the staffing of our parks and forests," said Mowery.
For almost half a century, staffing issues have been stagnant despite acquiring millions more visitors and having an expansion of park responsibilities.
"Our state parks are being staffed at about the same levels they were in 1970 when we had 20 million fewer visitors and about 30 fewer parks," she said.
Today, the degrading parks and surrounding forests have more challenges with the increase in acreage, recreational use by visitors, invasive plant and insect species, and with sporadic weather patterns, the local park and forest staff are doing what they can and being as resourceful as they can with what's currently available to them.
"So part of our conversation that we're having is the need to invest in staffing in our parks and forest with more year-round staffing. The other part of our conversation is the need for a billion dollars in maintenance, which sounds like a lot, but broken down over a series of years, our ultimate goal is a $100 million a year. That's only $8 per Pennsylvania resident per year to keep our park and forest system strong," said Mowery.
Outdoor recreation is a $29 billion industry in the commonwealth. Pennsylvania is the fifth largest state in terms of consumer spending on outdoor recreation in the nation.
According to Mowery, the industry employs over 219,000 people which is more than the gas industry and almost as much as the agricultural industry.
"So if we're not investing in our state parks and state forests, which are the backbone of outdoor recreation, we're not investing in the economy of the state, we're not investing in the health and welfare of the citizens if the state, nor are we investing in the quality of life that makes Pennsylvania an attractive place to live, work and play."
Mike Dinsmore, park manager for Greenwood Furnace, Whipple Dam and Penn Rosevelt state parks, explained that the three main local areas have very aged structures dating back to the Great Depression era.
"All three of our parks are surrounded by Rothrock State Forest. All three are Civilian Conservation Corps (CCC) parks. The pavilion that we're standing in, the dam itself, and the majority of the pavilions at Greenwood Forests are all CCC-era structures from the 1930s," said Dinsmore.
The wide range of buildings of similar age, along with unpredictable weather damaging roads and structures, presents a lot of challenges for the small-scale staff members who cater to the parks needs.
Forty percent of DCNR buildings are in need of repair or renovations, according to Mowery. The longer it takes to get funding, the more expensive it will cost taxpayers due to accidents and unpredicted degrading.
"As we delay it, it becomes more expensive. A really good example of this is PPFF had been working to raise money to secure a building at French Creek State Park. It's one of the oldest and last remaining of its kind, a CCC building. And in the process, during this time period where we're trying to get the plan together and the funds, the roof collapsed, so it went from being a $20,000 project to probably a $120,000 budget. It's costing more."
When PPFF talks about park maintenance they aren't just talking benches and buildings, but they are advocating for road and bridge reconstruction, the unclogging and cleaning of culvert pipes, as well as water and sewage treatment plants.
"I've been the regional officer for about three and one-half years. We've had projects on our list for 10-15 years that we continually bump down the list further because there are things that rise to a greater need. I think one thing people don't realize is that parks treat water and sewage. We treat our own water and sewers, but we also treat municipalities that are surrounding our state parks, and that's one of our biggest needs," said Ryan Donovan, assistant regional manager at DCNR.
The meeting concluded with Mowery recommending people reach out to their local state legislators to voice their passion for their favorite forest or park in order to help DCNR receive the funding needed to keep such places running.
"We need the investment, we need to care for these lands," says Mowery.
Jordan Frederick can be reached at jfrederick@huntingdondailynews.com.