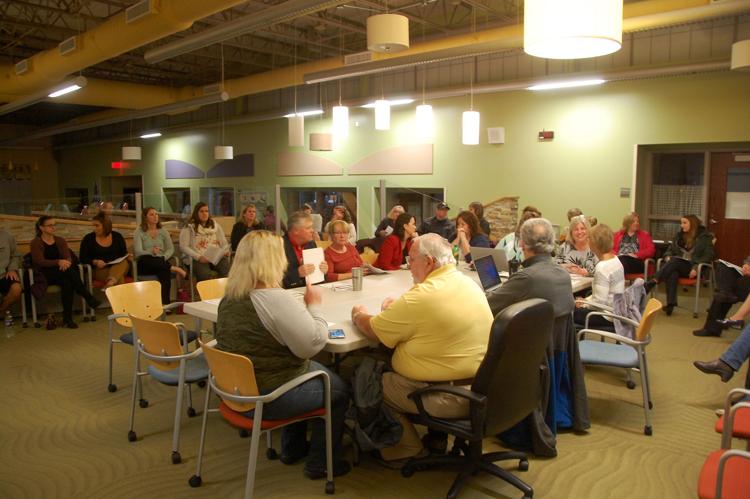 Mount Union Area School Board members are weighing the potential benefits of reconfiguring the district's elementary program, a plan that would close the Mapleton-Union school and split the remaining buildings between early and intermediate grades.
An audience of roughly 40 parents and staff sat in on Monday's building and grounds committee meeting where superintendent Dr. Amy Smith presented the board with the reconfiguration plan. In her presentation, she addressed staffing, population projections, school performance and how she believes the plan is one that will best serve students.
Smith said the plan is driven by student achievement. By pulling all K-2 students into Mount Union-Kistler and all 3-5 students into Shirley Township, Smith said her hope is class size will drop and teachers will have increased opportunity to collaborate and share best practices.
Further, Smith said the move pool the district's intervention services, thus giving students better access to Title I teachers and other specialists.
Speaking after the meeting, Smith said the above changes will create balance, noting the district's three elementary schools are not, at present, performing in sync with one another on state assessments. Neither Mapleton nor Shirley Township are meeting targets for language arts and math; Mount Union-Kistler is currently meeting those goals. Getting all teachers in the same building by grade, and on the same page, will hopefully turn those testing results around, she aid.
"We're creating equal opportunity for all of our students and providing a quality education," she said.
Mike Hummel, the district's director of curriculum, instruction and assessment, said during the meeting that he too believes the plan will create a level playing field for students.
"I want everyone to have the same opportunities no matter where they live in the district," he said.
Smith said the district does not intent to furlough staff. Instead, Mapleton's staff, should the closure follow through, will be reassigned to one of the other elementary buildings. Mapleton employs 10 people, including teachers plus cafeteria and custodial staff.
Hummel said the district isn't in a position to let go of staff.
"These people are all hands-on-deck," Hummel said. "They'll be utilized in some way. They're definitely needed."
Smith said if the reconfiguration moves forward, the teaching staff can be utilized in various ways, as classroom teachers, as intervention specialists or as full-time substitutes to more around the buildings as needed. The district currently employees two such subs, one at the secondary level and one for the elementary schools.
At present, Mapleton operates one classroom per grade. As of Monday, there were 81 students in grades K through 5 with class sizes ranging from 11 to 17 students.
Smith reported the school's population has been dropping steadily since 2014, when the number of students decreased to 149 from 158 the previous year. In 2015, there were 137 students; 2016, 129; 2017, 124; 2018, 119; 2019, 106.
At Shirley Township and Mount Union-Kistler, there are three classrooms per grade, and more students per class compared to Mapleton. At present, there are 234 students enrolled at Mount Union-Kistler and 264 at Shirley Township.
She pointed out that as a whole, the district's student population is dropping, from a total enrollment of 1,517 in 2013-14 to 1,294 for the current school year.
"This isn't just Mount Union, it's happening in all districts in the our area," she said.
She said another issue all local districts are grappling with is the availability of substitutes. She said bringing all K-2 under one roof, and 3-5 under another roof, will create better opportunity for staff to cover classes while the substitute shortage continues.
On the financial end, Smith said Mapleton's annual overhead cost, not including staff, was at $58,314 for the 2018-19 year.
She said that compared to the district's overall budget, which runs over $21 million, Mapleton's day-to-day costs aren't an issue. She did report that the building is looking at several major projects in the next few years, including replacement of the heating system and roof.
Board member Duane Gearhart, identifying himself as someone who is "not a fan of central planning" when it comes to schools, said he's concerned that families will lose school choice opportunities if the plan goes through, since there will be but one school for k-2 and one for 3-5.
Smith and Hummel said the trade off is creating an environment where opportunities are the same for students across the district and not dependent on which school a student attends.
Board member Andrew Ketner asked if there is enough time to enact the plan and meet all state requirements in time for the start of the 2020-21 school year.
Solicitor Nicholas Newfield said the state suggests districts plan for a four- to six-month process.
Newfield said the board's next step, if they are interested in the proposal, is to schedule, by a vote, an Act 780 hearing. He said the board could take such a vote as early as December if it chooses.
During the Act 780 hearing, community members will have opportunity to present their input on the proposal. Newfield said a three-month cooling off period follows before the state will allow the board to take a final vote.
He said the state will take one last look at the plan follow the board's vote to ensure due process.
Smith said the plan, if executed, would untimely lead to the sale of the Mapleton property.
Rebecca can be reached at dnews@huntingdondailynews.com.