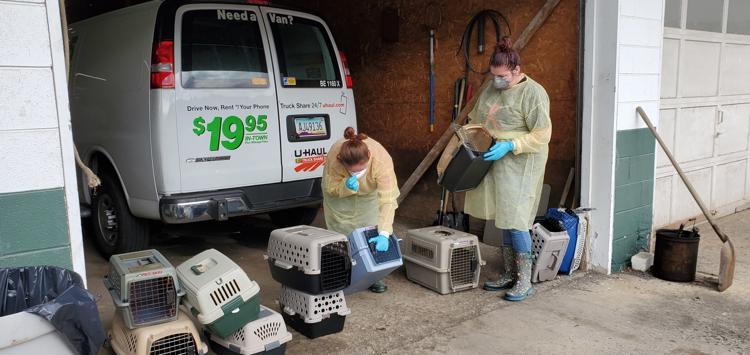 In the largest rescue effort the Huntingdon County Humane Society has ever undertaken as a single organization, staff and volunteers aided Huntingdon Borough Police and Huntingdon Borough code enforcement in rescuing more than 60 cats in Huntingdon Borough Sunday morning.
The cats were found in a residence in the borough, as well as a rented moving van, and were under the care of Rose Cottage Sanctuary Inc., a 501©3 nonprofit organization that was founded in February 2016.
A total of 38 cats were removed from the rental van and 22 were removed from the residence. Three felines removed from the van were found deceased, and one cat was discovered already deceased inside of the residence.
A press release from the humane society indicates that complaints about the residence were made with Huntingdon Borough Police and Huntingdon Borough code enforcement officers about the residence.
According to humane society officials, the conditions in which the cats were found could only be described as deplorable.
"The house is unlivable between the urine, the feces and the flies, maggots and fleas. As soon as you pulled up in front of it, the smell hit you," said HCHS board president Sandee Warsing, who is also a longtime veterinary technician. "Those poor cats had been breathing that for months or even years."
According to Huntingdon Borough solicitor Rich Wilson, there are no animals on the property at 1422 Oneida St. at this time.
"Currently, the property has been declared uninhabitable by the borough and a notice has been posted at the property," said Wilson. "The property is extremely dangerous and off limits to the public, including the owner."
Warsing further explained the conditions as HCHS staff and volunteers had to deal with as rescue efforts were taking place.
"We had to gear up with masks, gloves and boots and had to take frequent trips back outside to get fresh air as we worked. The house had no running water, and there were only a few rooms with electricity," said Warsing. "There were cats in the basement, first floor, second floor and in the attic. All were malnourished, dehydrated, anemic and had severe respiratory issues. They had chemical burns on their skin from the urine and feces."
"The odor coming off the van was noticeable from a block away. The smell of decomposition was overpowering," added Sandy Hess, HCHS treasurer and a veterinary technician, one of many staff and volunteers aiding in rescue efforts over the Labor Day weekend.
"When we approached the van, numerous cats were visible on the dashboard and on the front seats. The passenger side window was cracked and several cats reached their paws out to us," said Hess.
The rental van was towed to a Huntingdon Borough maintenance shed to allow for the safe removal of cats.
"When they loaded the van onto the flatbed, we observed large piles of maggots on the pavement under it and they were falling from the crevices of the doors," said Hess. "When we started removing the cats, feces covered almost all of the interior surfaces of the van and it was soaked in urine. Some of the cats were in crates. The only food was in a bag with maggots all through it and there were no litter boxes or water."
The press release from the humane society noted that of the cats that survived, nearly half were in critical condition and taken for immediate veterinary care. A veterinarian, after examination of all of the cats, determined that 22 had to be euthanized due to their failing health. One female also gave birth to four kittens upon arrival at the shelter.
Warsing added that even prior to this weekend's rescue, the shelter was already at capacity with the number of cats in their care, but she commended her staff and volunteers for stepping to help in this case.
"Every one of them came to work and worked overtime," she said. "They are the most supportive staff that any organization could ever ask for. They have gone far beyond what we asked. We didn't have to even contact them, and they came to help. Some weren't scheduled to work, but they came to work. I can't stay enough about them. They deserve a lot of respect."
She also noted that while she's been a part of rescue operations before, she said this has one that has taken an emotional toll on everyone involved.
"I've been through things like this before, this one really hit your heart," said Warsing.
Currently, all of the felines at the humane society are being held in a separate quarantine area as their health will continue to be monitored.
"We have them all together so they're not exposed to other animals," she said. "We have made accommodations for them. Some are still under care and need follow-ups (with a vet), and some are still questionable as far as their health is concerned."
Warsing also added the cats will not be available for adoption until all legal proceedings in this matter have been dealt with.
"These cats are in our care until this is taken care of, and it could be weeks or even months before that happens," she said.
She also gave advice for those who are looking to help any animal by finding a rescue to aid them.
"Anyone who wants to support a rescue must make sure they check the organization out thoroughly," said Warsing. "Check with the veterinarian the rescue works with. If the rescue will not provide that information for you or allow you to view the facility — including the animals' living quarters — walk away."
Humane society officials are asking for donations and specific supplies to aid in the continuing care of the rescued cats. If anyone wants to learn more about how they can help, they can contact the shelter at 643-7387 or visit their Facebook page by searching for Huntingdon County Humane Society.
Wilson commended those involved with working to resolve the issue.
"This is not a normal code issue and Huntingdon Borough Police Officers, 911 dispatchers, the Huntingdon County Humane Society and Jim Morris need to be commended for how this situation was handled," he said. "There is no playbook for a situation like this."
Wilson said future plans for the property will be determined by Huntingdon Borough Council.
"It is a very sad and scary situation at this property," he said.
Charges are pending in this matter. Calls made to the District Attorney's office were not returned as of press time.