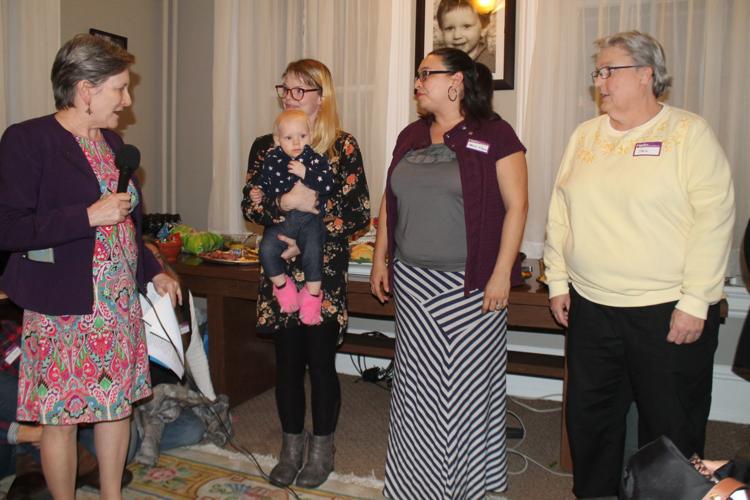 Thursday evening was a time for Huntingdon House to bring the community together, not only to show off the newly renovated Rory Peachey Administration Building, but also to thank community members for their support.
That was the goal Huntingdon House board members and staff at the open house and public briefing held at the administration building.
Jean Collins, executive director of Huntingdon House, gave some reminders of why Huntingdon House has been serving survivors of domestic violence in the county for 33 years.
"It's a manifestation of the indomitable spirit of the Huntingdon County community," she said. "Community is why we were created, community is why we've survived, and community is why we're here tonight."
Collins discussed some of the notable examples of why Huntingdon House continues its mission of helping survivors of domestic violence, which can be found in the house.
"The name of the building is the Rory Peachey Administration Building," she said. "Rory was a man of strong conviction and one who cared a lot about this community. He cared so much about (domestic violence) survivors living in this community, and he could see the impact of the abuse and violence, to the degree that he took people in his home. He had the first safe houses in this community, and he encouraged other people to do the same."
Peachey was a part of a group that officially formed Huntingdon House, added Collins.
Another representation of why Huntingdon House staff continues their work is a photo of Michael Ayers, a 2-year-old boy, who along with his mother, Hollie, were shot by his father in a domestic incident in March 2013. The young boy lost his life as a result of that incident.
"They spent many years fleeing that violence, and all the work to flee was stopped short when Michael's father murdered Michael and shot his mother," she said. "This is a perfect example of what we're fighting everyday. We're literally saving lives with our programs. Because we're here, these kind of things happen far less."
Collins also said that those who support the agency make up the spirit of Huntingdon House as well. She acknowledged staff members for their tremendous work to help domestic violence survivors.
"This house is your house," she said. "We can't do what we do without you, and we don't exist without you."
Tory Smith, assistant executive director of direct services, discussed some of the programs Huntingdon House has that aid in helping domestic violence survivors.
In particular, he touched on three keys things all programs at Huntingdon House focus on to help.
"Our programs are trauma informed, which means we have a understanding of what that trauma is and the impact it can have on people's lives," he said. "It's also survivor centered. This means we recognize and respond to the rights of survivors to determine what is best for them in their case. Also, their care is anti-oppressive, which means an understanding of systematic oppression has an impact on people's lives."
Smith also emphasized the 24-hour hotline, at 643-1190, is a key element to connecting a survivor to any services that are needed.
Additionally, Smith told a fictional story of a domestic violence survivor named Jane, who escaped her abuser, along with her dog, Spot. In this story, Smith illustrated that Jane was placed in their emergency shelter program, then later placed in rapid rehousing. Thanks to the help of the community, not only did she find an apartment, but it was furnished thanks to donations. Additionally, her dog was placed in a foster home while she found housing, thanks to the foster a pet program through Huntingdon House. Finally, Jane suffered a traumatic brain injury as a result of years of abuse, so keeping a job was difficult, so Huntingdon House staff helped her to find a more permanent solution.
"While this was a fictional story, it illustrated the very real aspects of what we do each and every day," said Smith. "Along the way, I showed examples of how the community gets involved in helping domestic violence survivors."
Brent Rader, chair of the board of directors for Huntingdon House, thanked the community for its help following a fire that destroyed portions of the first floor of the administration building May 2.
"There are so many people we want to thank, but in particular, I want to thank the Huntingdon Presbyterian Church and the Huntingdon Rotary Club for their help," he said, adding that a ramp way access to the back porch of the house, along with renovations on the inside, are nearly complete.
"It's been a challenging year," said Rader, referring to not only the fire, but the loss of grants. "But, we're putting all of that behind us, and we have some exciting plans. We want to engage with the community to build a stronger financial foundation.
But, Rader acknowledged that the support of the community is what brought Huntingdon House to where it's at today.
"We're here because you want us to be here," he said. "So, thank you for supporting survivors."