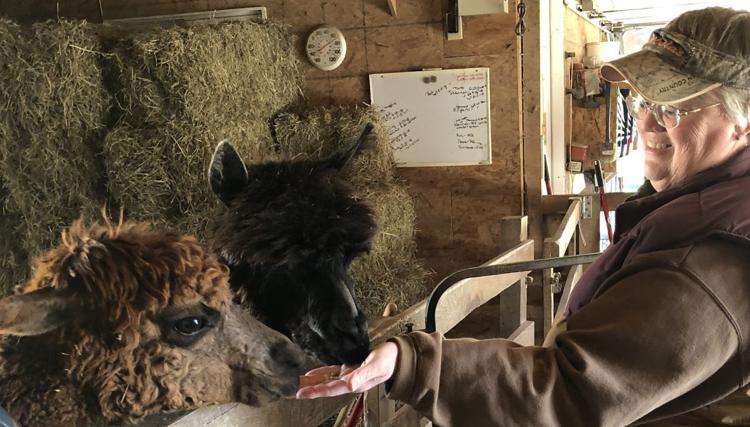 A buzzword that may reach Huntingdon County in the near future is "agritourism," the combination of agriculture and tourism.
The idea combines agriculture and tourism, introducing practices such as milking cows, shearing sheep and picking pumpkins to those unfamiliar with farming.
Agritourism is a new focus of the Huntingdon County Business and Industry's business development committee, according to committee chair Tom Mincemoyer.
"We tried to kick around things that we felt Huntingdon County was primed to be successful in," he said. "Obviously we have a large tourism economy in the county and a large agricultural economy as well. The agricultural sector is a struggling portion because farming gets harder and harder to make a living at all of the time, especially for people that aren't massive."
Mincemoyer said across the state and across the country, the concept of agritourism has been a way to help some people find another income or business stream to support their farm.
"The more we talked about it, the confluence of the tourism and agricultural industries seemed like a good fit for us and something we can make headway in," he said.
Committee members hope to hold a stakeholders meeting in early April to meet with interested parties and agencies to discuss the topic, as well as to find ways to capitalize on existing programs.
Mincemoyer related that the plans to move forward with the initiative will be an active pursuit to not only help those planning to start a business, but to educate others on the topic as well.
"We hope to do something educational for the community of potential participants. I have zero expertise in the area, and a lot of people aren't really understanding what the term means, so our goal is to have some sort of educational forum for people who are interested in agritourism to find out a little bit more about it and see whether it might be something that could help them out," said Mincemoyer. "From there, we'll be trying to work with and support individuals that have an interest in trying to build an agritourism business. They can either enhance what they have, or start a new one, and explore what sort of resources are available to support people."
The state Department of Agriculture has seen growth in businesses throughout the state. A Huntingdon native, Department of Ag spokesman Will Nichols believes the trend would fit in well in the county.
"Agritourism is one of the growing trends in the state, and in Huntingdon County, our farmers have recognized the value of it, and how it could help their businesses. It is a very broad category of business, it's everything from a pumpkin patch to a county fair. There are a lot of different ventures that fall under the umbrella of agritourism. It's basically anything that brings folks onto the farm for a value added experience," said Nichols. "It is a great way to diversify a farm or to bring it back to an operating status. There are all sorts opportunities for that, and we see it manifests itself in so many different ways across our state."
Nichols believes that one of the biggest hurdles for farmers starting an agritourism business is access to funding.
"It's a tough agricultural climate right now in the first place. The hardest part is finding a vision and finding the capitol and the resources to make it a reality. You're kind of limited only by your dreams, your passion, and your ability to make it become reality," said Nichols.
On the tourism side, Huntingdon County Visitors Bureau executive director Matt Price understands that the leap to agritourism may be worth the investment for families.
"For many families that have been farming for generations, agritourism may require a completely new way to look at the assets that they own. There is risk in any new venture, so doing the market analysis for each idea and testing it on the market are important to make sure it will be worth the investment," said Price.
By increasing agritourism in the area, it may add to the visitor experience in all seasons.
"There are a number of agritourism models that would add to the visitor experience in Huntingdon County. Wineries, farm-to-table dining, craft cheese production, use of farm land during non-growing seasons for snow tubing or cross country skiing are some that come to mind immediately," said Price. "All of these would tie in nicely, not only with the region's tourism draw, but also with the Comprehensive Economic Development Strategy (CEDS) plan for the Southern Alleghenies six-county region."
Bob and Sandy Baker, owners of Terrace Mountain Alpacas in Union Township, have been in the agritourism game for several years, and see more than 1,000 visitors a year at their farm. They have seen visitors from all over the world, including Russia and China.
"When we have our farm days and open house, we have 200-300 people each time. We have people all summer and even during the winter months, and we get bus tours now and then, too," said Sandy Baker. "We've had people from State College, Baltimore and Annapolis, Maryland, come just to buy Christmas gifts. We get a lot of repeat customers."
Not charging admission, the Bakers make their living off of the sales in their gift shop with products that are made from the alpaca fleece that is harvested from the animals that are the main attraction. The Bakers are primarily motivated by the love of their animals.
"We have certain alpacas that will come up to you and they like their kisses and their hugs, they just enjoy it. A couple of the boys in the mornings will stand in my way until I give them a hug, we give kisses and then they go about their business," said Baker.
Price added that JB Tree Farm in Morris Township, B&D Acres pumpkin patch in Warriors Mark, the farmers' markets in Mount Union and Huntingdon and ReKlaimed Vines winery, with a storefront in Smithfield Township, are all examples of agritourism already in full vigor in the area.