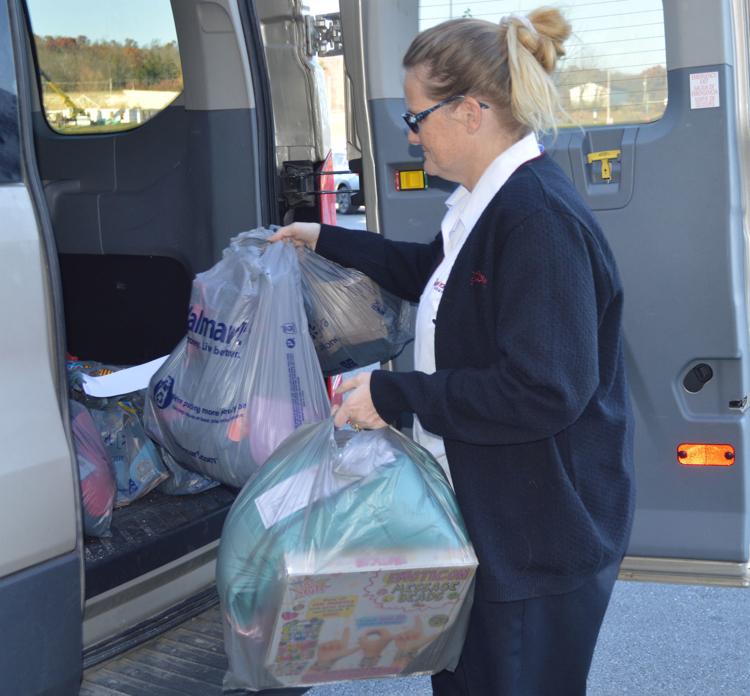 One of the Huntingdon County Salvation Army's auxiliary captains will soon have the opportunity to tell the other to "go jump in a lake."
Captains Philip and Charity Bender are taking part in a friendly competition as part of the a national toy drive Saturday, Nov. 9, at Walmart in Smithfield Township.
"We thought we'd make it a friendly competition. I'll have the black van and Charity will have the gold van and the one who collects the least toys will have to jump in the lake next week," said Salvation Army Auxiliary Captain Philip Bender.
"And I don't like to be cold," said his wife, Salvation Army Auxiliary Captain Charity Bender.
Toys will be collected at both Walmart entrances from 8:30 a.m. to 8 p.m. and will go to benefit the Treasurers for Children campaign this Christmas season.
The Benders said they were more than happy to work with Walmart on this initiative.
"Walmart in Huntingdon is always willing to work with us," said P. Bender. "No matter what we ask, they're always more than willing to do it. And that goes for the rest of Huntingdon County, too."
The Benders are hoping for a good turnout Saturday.
"We've only had a short time to plan, a couple of weeks, but we'll have our vans outside Walmart and folks who purchase toys will be able to put them in there or in the boxes inside Walmart. People can come and ask what is needed and we'll have fliers like we did for the back-to-school event that will include ideas," said C. Bender.
"Toys can range from $1, $5, whatever. Anything at all helps," said P. Bender.
In addition to collecting toys, the Salvation Army will also be able to ring bells for its Red Kettle Campaign Saturday. The 2019 Red Kettle Campaign kicks off in the county tomorrow, Friday, Nov. 8.
"It should be a great kickstart to the campaign," said P. Bender.
Volunteers are still needed to ring bells, as well as to help at the toy donation tables Saturday. To volunteer, call the Salvation Army office at 643-1430.
Bell ringing will start at 9 a.m. Friday at Sandy Ridge Market in Orbisonia and Appleby's Drug Store in Mount Union and at 10 a.m. at Peebles in Huntingdon. The famous red kettles will return to Walmart Black Friday, Nov. 29, with the kickoff of the national Red Kettle Campaign.
"This year's kettle goal has been set at $47,000," said P. Bender. "That doesn't make us nervous because of the way people give. Huntingdon County is full of incredible, wonderful people who give. It's been a wonderful blessing.
Last year's goal was $45,000, but volunteers helped to bring in $49,113 in kettle donations.
"We just pray that we make our goal. That's all we can really do," said P. Bender. "Huntingdon County always comes through when people need them."
Reaching their goal is important, not just because of an increased need in the county, but because the Salvation Army uses the kettle campaign funds to operate all year long.
"It not only provides Christmas meals, toys and food boxes, but it helps folks with electric and heat. It funds our kids' club program, kids going to camp, basic utilities for our own building and more," said P. Bender. "Kettle money is not just used at Christmas, it sustains us all year long. It's pretty much our bread and butter."
One hundred percent of the funds donated to the kettle campaign stay in Huntingdon County. The Salvation Army is a United Way partner agency.
Becky can be reached at bweikert@huntingdondailynews.com.