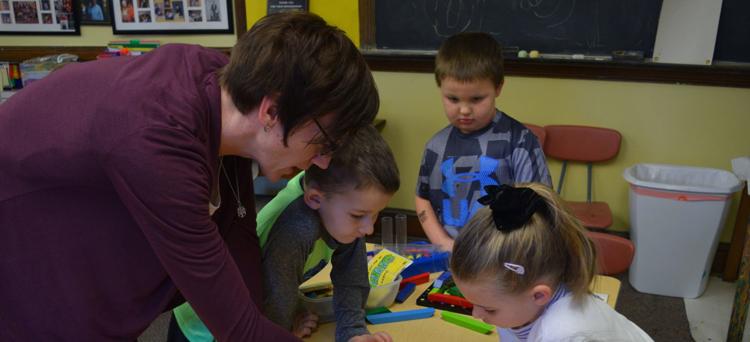 With kindergarten registration approaching, families need to be prepared on what their children need to know before they head to school next fall.
Jessica Quinter, principal at Juniata Valley Elementary School, noted that giving children opportunities to play and interact with other children will help with socialization ahead of kindergarten.
"This helps build confidence and social skills," she said. "Families can also do everyday activities such as reading books, playing games, doing puzzles, spending time exploring outside and cooking. Any of these activities help develop communication, problem-solving and resiliency skills."
Making sure children know simple tasks, like learning to zip a coat or washing hands, is important.
"It's also helpful if students can do some self-help tasks, such as zippering a coat or backpack, hand washing, opening items such as a crayon box or snacks, independently," she said.
Other things, like learning letter names, sounds, shape and color recognition, counting and writing a child's name is also important.
Registration for Juniata Valley Elementary School has been scheduled for Monday, April 22, and Tuesday, April 23, at the Juniata Valley Elementary School.
Brent Pistner, elementary principal in the Southern Huntingdon County School District, also added some things parents and guardians can help children with when it comes to preparing children for kindergarten.
"Children can do things like learning the alphabet, at least verbally, help with rhyming words, knowledge of text in a book and counting one-to-one correspondence," he said. "Some sight words, like I, love, mom, dad, we, me and the are good to know."
Pistner said some other things children may be assessed on during registration include things like the ability to identify coins like pennies, nickels, dimes and quarters, how to write their first and last names, communicating in full sentences and independent bathroom skills."
The Southern Huntingdon County School District as well as the Huntingdon Area School District, often hold events like kickoffs to kindergarten so parents and children can get an idea of what their children need to know before the start of kindergarten.
For example, there will be a Kickoff to Kindergarten event held from 5:30-6:30 p.m. Thursday, March 21, at Standing Stone Elementary School, where future kindergartners can learn about skills like fine motor skills, learning the alphabet and numbers.
Additionally, with immunizations and vaccinations making news, parents need to know what immunizations are required before their students enter school.
According to the state Department of Health, four doses of tetanus, diphtheria and acellular pertussis, including one dose given after the 4th birthday, are required as well as four doses of polio, including one dose given on or after fourth birthday and at least six months after previous dose given, two doses of measles, mumps, rubella, three doses of hepatitis B, two doses of the varicella vaccine, otherwise known as the chickenpox, or evidence of immunity needs to be proven.