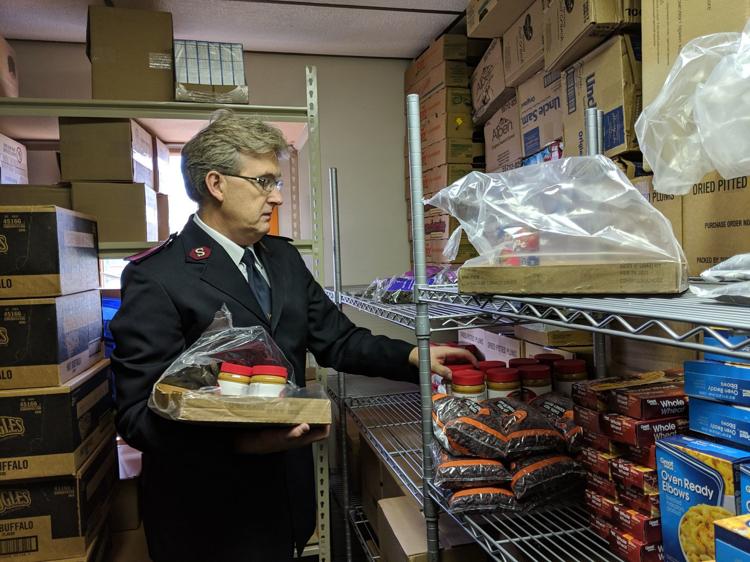 As the holiday season arrives, people anticipate the time of giving thanks and giving presents. For the local food pantries, it's also a time of giving food to those who need it most.
The Mount Union Area Food Pantry is located at the First United Methodist Church in Mount Union. Helping those from McVeytown to Mill Creek, volunteers proudly join together and help distribute boxes of food.
Brian Myfelt, director of the Mount Union Food Pantry, said their progress in serving the community wouldn't be possible without the extensive amount of volunteers.
"We have volunteers who come in to help organize and prepare for the food pantry," he said. "There's people who help serve and carry the boxes to people's cars during the food pantry. We also have people come and serve coffee and cake for those who show up."
Myfelt also acknowledged the pantrys get a lot of support from businesses and organizations in the community.
"The local VFW and Sandy Ridge Market have been a huge help to us," he said. "We've received a lot of food donations from them. Sandy Ridge alone literally donated a ton of food. The VFW and Sandy Ridge also helped to procure a coupon for everyone who comes that's good for a 10- to 12-pound turkey."
While they have received donations from businesses, there is always a need for more. The Mount Union Food Pantry serves anywhere from 160 to 200 families throughout a month.
"We always welcome jars of peanut butter and canned goods," Myfelt said. "Cereal is also a popular item that we like to have donated. We do ask people who donate items to check the expiration or best-by date."
The food pantry is open from 9-11 a.m. Tuesdays, with fresh produce offered every third Tuesday. Donations are accepted from 4-6 p.m. Mondays, when volunteers are preparing for the next day's pantry.
The Huntingdon County Salvation Army in Huntingdon, Huntingdon County United Way participant, accepts food donations for the local community as well.
Auxiliary Captain Charity Bender said the Salvation Army is pleased to be able to serve Huntingdon County with their food pantry and assistance program, which is open to clients once a month.
As they enter their busiest time of year, Bender said she and her husband, Auxiliary Captain Philip Bender, have had an abundance of people donating so far.
"We have people donating things from canned goods to stuffed chicken breast," she said. "We even have people buying turkeys and hams for the families we help serve."
While the Salvation Army is receiving a lot of donations, there are still a couple things needed for area families.
"We are in need of any type of canned good items," Bender said. "Canned vegetables and canned fruit are always needed. We could also use cereal, too."
Donations are accepted at the Salvation Army on Shadyside Avenue from 9 a.m. to 4 p.m. Monday through Thursday and 9 a.m. to noon Friday. Salvation Army helpers then hand out food boxes to clients from 9 a.m. to 2:30 p.m. Tuesdays, Wednesdays and Thursdays.
Along with the Salvation Army in Huntingdon, there is also the Huntingdon Area Food Pantry in the basement of the Huntingdon First United Methodist Church.
Jean Feagley, administrator for the food pantry, said they help 148 families within any given month.
"We have 40 volunteers that help inside organizing the shelves and preparing the boxes, plus 25 volunteers who help outside with driving the truck and carrying boxes to cars," she said.
The Huntingdon Food Pantry receives support and donations from various aspects in Huntingdon. From the 40 churches in the school district, the local businesses and community donations, the food pantry is well supported.
Feagley said the food pantry takes all donations that help make a meal. Some common items are soup, canned vegetables, juice, Spam, stew, boxes of macaroni and cheese, pasta sauce and bags of noodles.
The food pantry is open from 9-11 a.m. Tuesdays and Thursdays. Donations can be made during these times or call 643-1830 to schedule a time to drop off donations.
The Southern Huntingdon County Food Pantry also serves county residents.
Rev. Jim Hullihen, director for the SHC Food Bank for almost 20 years, said the pantry helps a lot of people in the area.
"The food bank is an important part of our community," he said. "There really are families in need in our area."
While food pantries do receive grants from the state to help purchase food, the community is what helps the most. Donations and time commitments help provides support to the food bank and the people they serve.
"We wouldn't be able to do what we do without help from the community," Hullihen said. "We receive donations from individuals, local churches, local businesses and social groups. We receive very helpful donations from the VFW and American Legion as well as from Sandy Ridge Market."
The SHC Food Pantry accepts any nonperishable food item. Some items that are needed regularly include cereal, pop-tarts, condiments and cake mixes.
They are open from 9-11:30 a.m. the second and fourth Wednesday of each month 6-7 p.m. the third Tuesday of each month. Donations can be made during this time or call 542-9621 to arrange a time to donate.
Most canned or jarred food items have a relatively long shelf span, however, when donating items, please be aware of the expiration or best-by date.
Some common items to donate include jars of peanut butter, crackers, canned fish and meat such as tuna and chicken, rice, cereals, pasta, fruits in natural juice with no sugar, canned vegetables, canned soups and stews, applesauce, unsalted nuts and juice boxes.