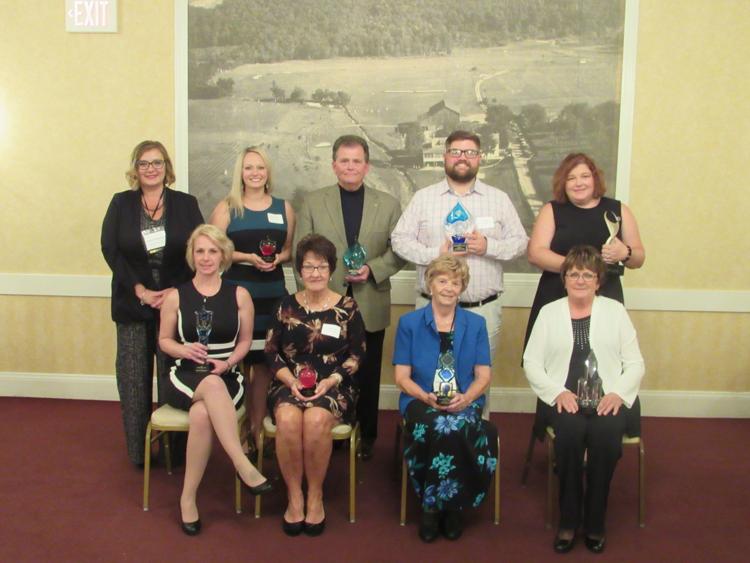 Members of the Huntingdon County Chamber of Commerce honored local business leaders Tuesday night at their annual awards gala at the Huntingdon Country Club.
Yvonne Martin, president and CEO of the Huntingdon County Chamber of Commerce, was the master of ceremonies and introduced each of the awards presenters.
The 2019 Educator of the Year Awards had two recipients this year, Linda Ford and Samantha Hiles of Little Jewels Academy in Orbisonia.
"They create lessons and activities that engage the children to help them grow educationally and spiritually," said presenter Juniata College President Jim Troha. " Students learn to be good citizens and friends, while learning about our community."
"Thirty years ago I never thought I would be standing here today and Little Jewels would be where it is," said Ford.
"We were really shocked and honored to receive this award. The phrase I try to think about for our students is that we try to prepare them for kindergarten and eternity...the main thing we try to teach them is God's love," said Hiles.
The first award of the night was sponsored by Juniata College in recognition of an educator who demonstrated "above and beyond commitment and service in the field of education."
The second award of the night was sponsored by AristaCare at Huntingdon Park and AristaCare at Woodland Park.
The 2019 Business of the Year Award went to Bumgardner & Flasher Oil and was accepted by company president and CEO Darlene Bumgardner.
The oil company saw substantial growth after purchasing Thousand Hills Petroleum in 2010, has supported numerous community organizations and, "They pride themselves on dependable, prompt and courteous service along with a close interaction with their customers," said presenter Doug Roles.
The Business of the Year Award was sponsored by Valley Rural Electric Cooperative and recognizes a business that has contributed to the economic growth and development of Huntingdon County.
"I am honored and humbled to receive this award," said Bumgardner.
The 2019 Customer Service Award winner was AristaCare at Huntingdon Park. Melanie McAleer, nursing home administrator at AristaCare at Huntingdon Park, and Kammi Plummer, community outreach director, accepted the award.
"Residents think of staff as their family, and staff most definitely consider them family, as well. They love when former residents visit and show the team just how well they are doing at home with the previous help of the incredible therapy and loving care they receive," said presenter Barbara Covert.
"This is such an honor for me, but mostly for my staff. Truly it is the staff that work at AristaCare that deserve this, both past and present," said McAleer.
"I go to work every day thinking 'be the change you want to see in the world'. We are truly honored to be in the industry that we're in and take care of the loved ones that we do," said Plummer.
The award was sponsored by Bonney Forge Corp. and is presented to a business for its excellence in providing quality customer service.
The 2019 Volunteer of the Year Award went to Dee Dee Brown who is currently serving her second round on the chamber board of directors.
Sponsored by SPE Federal Credit Union, the award is for a chamber member who has gone above and beyond in support of the mission and the goals of the chamber.
She "often stops in the office to see chamber staff to make sure there is nothing they need help with and has volunteered to help wherever and whenever needed," said presenter Christina Swanger.
"I guess I learned to volunteer when I became a chamber member because that's what you do," said Brown, who wanted to give credit to the many people and organizations with whom she has collaborated. "I accept this award in their recognition because they are the people who work together for our community and I thank you very much for that."
The 2019 David K. Goodman, Jr. Community Service Award went to John Eastman.
Sponsored by Huntingdon Elks Lodge 976, the award recognizes an individual or organization who has demonstrated exemplary dedication of time or resources for the betterment of the community.
Eastman "spends roughly 800 hours a year volunteering in the community," said presenter Gary Huff, Exalted Ruler of Huntingdon Elks Lodge 976, and has been in involved in Rotary Club, the Huntingdon County Chamber Foundation Board of Trustees, the J.C. Blair Hospital benefit and numerous other projects and organizations.
"I'm deeply honored to be worthy of this recognition. We're all blessed to be able to live and work in this wonderful area with caring people who all give back to the community in their own way," said Eastman.
The Entrepreneurial Success Award winner was Strickler's Ice, Bottled Water and Cold Beer.
Sponsored by Highmark Blue Cross & Blue Shield, the purpose of this award is to recognize a business owned by a community member, that has been in business for a minimum of three years, initially launched as a small business, that has shown innovation and aided in the advancement of the community.
"As times have changed with recent law changes allowing convenience stores and grocery stores to sell beer, they have adapted to now offer freshly made adult slushies, and have become the largest seller of craft beer in the area," said presenter Doug Roles.
"I want to say thank you on behalf of Ed and Ryan. Ed really doesn't like everyone knowing about all the charity work that Strickler's does in the community. I've lost track of the amount of ice we put in different families vehicles for charity events," said Strickler's employee Johnathan Hyde, who accepted the award on behalf of the Strickler family.
The 2019 ATHENA Award winner was Bernice Dysard, national accounts manager at Mineral Springs.
"Presented to leaders across professional sectors, the ATHENA Leadership Award's rich history, international scope and focus on mentorship distinguish it as one of the most prestigious leadership awards one can receive," said Martin, who noted this id the only award where the recipient was not informed they were the winner.
Dysard "is the current president of the Huntingdon County Women's Club and is head of the membership committee. The club gives donations each month to organizations such as Huntingdon House, First Book, backpack programs, food banks, nursing homes, PRIDE, Crossroads Pregnancy Center, the Salvation Army and many more," said presenter Mary Jane Smith.
"Thank you all so much. I never expected to be here. I was just honored to be nominated. My family, you mean the world to me. Mineral Springs, you let me fly and have put your faith in me and that has proven to be very positive," said Dysard.
The award was sponsored by Bumgardner & Flasher Oil, FirstEnergy Corp., Grier School, Headline Marketing & Communications, Huntingdon Area School District, Huntingdon Dance Academy, Lincoln Caverns and Whisper Rocks, MJEM's Photos, Team Chevrolet, Buick, GMC and World Marketing of America.
Nathan can be reached at nwoods@huntingdondailynews.com.