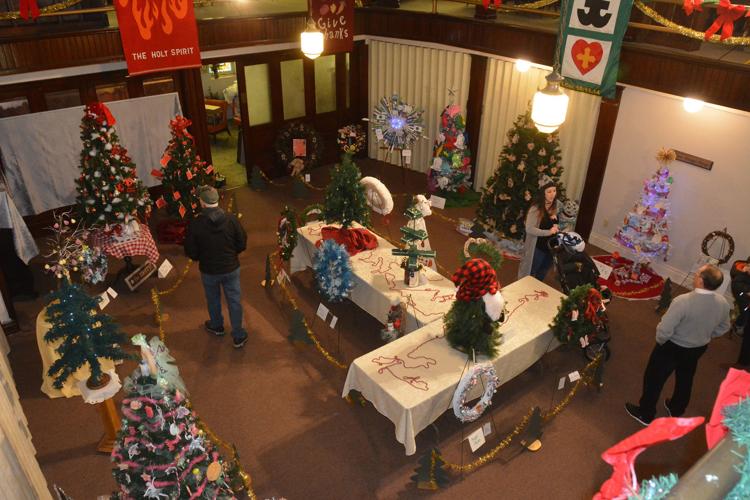 The Christmas spirit in Mount Union is kicking into high gear this weekend with a full and festive three-day schedule of new, endearing and updated events.
Wreaths and Trees
The annual Festival of Wreaths and Trees marks its silver anniversary this season and welcomes a pair of new directors. Located in the Mount Union Presbyterian Church, corner of Shirley and Division streets, the festival will run 10 a.m. to 6:30 p.m. Friday, Dec. 13; 9 a.m. to 3 p.m. Saturday, Dec. 14, and 12:30 to 3 p.m. Sunday, Dec. 15.
Set up is scheduled for 10 a.m. to 8 p.m. Thursday, Dec. 12.
Sisters Leslie and Chris Armagost are at the helm of this Mount Union tradition, succeeding Cathy and Norm Wilson who coordinated the event for the first 24 years. The Armagosts, fans of the wreath and tree display, accepted the reins from the Wilsons who were unable to continue in their leadership roles.
Leslie Armagost said she and her sister plan to do everything they can to live up to the standards set over the years by the Wilsons, both retired art teachers.
"I only found out a couple of weeks ago for sure that it wasn't happening, and then it swiftly became apparent to me that nope, it definitely needed to be happening after all," she said. Not wanting to see a much-loved tradition face cancelation, but also recognizing the amount of work the Wilsons invested each year, the sisters decided to team up.
Cathy Wilson said she is pleased to past the torch, knowing the event she and her husband developed over the years will continue.
"I am absolutely delighted," Wilson said.
Because the efforts are arriving a little late in the season, Armagost said this year's event will be scaled back. There won't be live music as in past years when the festival featured performances by school groups and private-lesson students. This year's festival will also miss its unusual model train display.
However, the Armagosts are dedicated to the festival's centerpiece which is the display of tree and wreaths created by local talent. Plus, the sisters already have their eyes set on Christmas 2020 when they expect the return of live music, model trains and perhaps more.
"It'll be pretty limited this year, but doing something is very important and there's enough time to get it going well for next year," Armagost said.
Regular attendees might notice a slight change in the event: the reversal from the usual "Trees and Wreaths" to "Wreaths and Trees."
Armagost said swapping the trees and wreaths represents both the charge in supervision and also welcomes more participants to join in the fun of sharing their holiday decorating skills.
"Wreaths can be a little easier to come up with than whole trees, so it can also be taken as subtle encouragement to get more people to participate," she said.
The events received support from the Mount Union Area Historical Society, Mount Union Chamber of Commerce, Mount Union Art Guild, the Mount Union Sons of Italy chapter, the Huntingdon County Arts Council and the Mount Union Presbyterian Church.
Anyone who wants to display a wreath or tree can call or text Leslie Armagost at (719) 332-6975 or visit MU Festival of Wreaths and Trees to leave a message.
It's a Wonderful Life
Bricktown Events, located at 28 W. Shirley St., is joining forces with local vendors for the first-ever "It's a Wonderful Life" holiday celebration which spans the weekend. The event's mission statement is to celebrate local communities while encouraging the Christmas spirit.
The vendor fair, which anchors the event, runs from 9 a.m. to 7 p.m. Friday, Dec. 13, 1 to 7 p.m. Saturday, Dec. 14, and noon to 5 p.m. Sunday.
There'll be much more going on around the events center while holiday shoppers browse the potential gifts.
Friday kicks off with a hot breakfast from 7-11 a.m., followed by soup and sandwiches for lunch from 11 a.m. to 4 p.m. A spaghetti dinner will be served from 5-7 p.m. and, starting at 7 p.m. is a screening of the classic 1946 movie "It's a Wonderful Life" starring Pennsylvania-born actor Jimmy Stewart.
Friday is also drop-off day for items going up for bid in the silent auction. And Friday kicks off the gingerbread house contest; the deadline to enter a creation is noon Saturday and winners in three age categories (5-12, 13-18 and 19 and up) will be announced at 4:30 p.m. Sunday. Entries will be judges on creativity, construction and decoration. Contact Ruth Dunkle at 644-8471 or Marie Casella at 599-5442 for further contest details.
Saturday begins with Flapjacks with Frosty from 8-11 a.m., followed by a brown bag lunch with ham and turkey sandwiches from noon to 2 p.m. The cookie and cocoa bar opens from 1-4 p.m., followed by story hour with volunteers from the Mount Union Community Library, from 2-4 p.m. For dinner, the events center is serving up walking tacos from 5-7 p.m. at which time children can pose for pictures with Santa Claus.
Sunday's activities include brunch from 11 a.m. to 2 p.m. and a concert by Chris Woodward and his guitar students from 2-4 p.m. Silent auction winners will be announced starting at 4:30 p.m.
Decorating Contest
Mount Union homeowners and businesses are encouraged to trim and light their properties for the Mount Union Chamber of Commerce's annual holiday decorating contest. Judging will commence at 6:30 p.m. Friday, Dec. 13.
The chamber will award prizes in three categories. One winner will be chosen for the best-decorated business categories, while first, second and third place will be award for the best home and the best door.
There is no need to register, just turn your lights on.
Open House
Before — or after — perusing the trees, wreaths and vendor wares, head over to the Bricktown Museum at 300 W. Small Street which is hosting an open house 10 a.m. to 4 p.m. Saturday, Dec. 14, and 1-4 p.m. Sunday, Dec. 15. The open house is the public's opportunity to catch up on the ongoing efforts of the museum's volunteers, including renovations to their century-old warehouse and additions to their model railroad.
The museum, operated by the Bricktown Model Railroad Association, is dedicated both to preserving Mount Union's industrial history and giving local model train enthusiasts an outlet for their talents, which include recreating, in miniature, Mount Union and surroundings areas.
"It's an exciting time at the Bricktown Museum," public relations director George Sarra reports. "We are nearly finished with renovations and are about to start with displays. We also began reassembling our layout."
Sarra said members are looking forward to welcoming the public.
"We will have trains running on our layout for the open house," he said. "We also have large scale trains running at the open house this year."
In case you miss the museum Dec. 14-15, the open house will resume next weekend 1-3 p.m. Saturday and Sunday, Dec. 21 and 22.
Holiday Bazaar
The Mount Union Area Kiwanis Club is hosting is 38th annual holiday gift bazaar in a new location.
For decades, the the Kiwanians operated the annual gift fair from the basement of the First United Methodist Church on Shirley Street. They've moved to the Mount Union Fire Hall on Market Street.
Hours are 10 a.m. to 8 p.m. Friday, Dec. 13, and 9 a.m. to 3 p.m. Saturday, Dec. 14. Santa Claus will stop by the bazaar from noon to 2 p.m. Saturday to visit with children.
As usual, the bazaar will feature the wares and fares of many area vendors.
"We have lots of food and vendors of all walks," said Mary Trice, event coordinator. She said anyone browsing for gifts can expect to see jewelry, fine arts, needlecraft and woodworking among the handcrafted items.
In addition, Trice said the Kiwanis Club will hand out hats, gloves and toys for infants to children aged 12, during Santa's visit Saturday.
Santa Parade
The Mount Union Chamber of Commerce, with help from its North Pole connections, is bringing Santa Claus to town as guest of honor in the annual holiday parade.
The parade kicks off at 4 p.m. and will travel from the fire hall on Market Street to the First United Methodist Church on Shirley Street, where the borough's official Christmas tree stands. The fire company will escort Santa with musical accompaniment from the Mount Union Area High School marching band.
Once delivered to the church, Santa will greet area children. In the church's social hall, the congregation will offer cookies and hot cocoa to its visitors. The chamber will distribute free age-appropriate books.
Santa is scheduled to visit with children around the tree but in the event of inclement weather, Santa will greet his young visitors inside the church's social hall.
Concert
The weekend's festivities conclude Sunday evening with "I Believe," a Christmas concert presented by the Mount Union Festival Chorus.
The concert begins at 7 p.m. Sunday, Dec. 15, at the First United Methodist Church, 15 W. Shirley St.
For addition information on the above events, including additional details and a full schedule, visit Bricktown Christmas on Facebook.
Rebecca can be reached at dnews@huntingdondailynews.com.