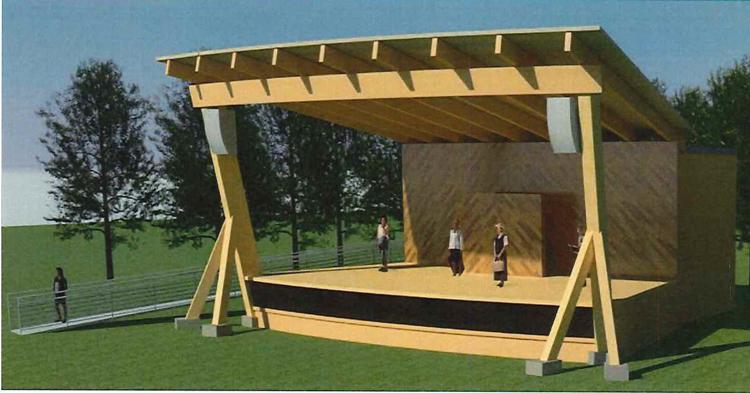 A proposed project in Huntingdon Borough could bring more folks to the Flagpole Hill area in the future.
At Tuesday night's monthly Huntingdon Borough Council meeting it was announced a community amphitheater will be built in the area in 2020.
The board unanimously approved a motion to use a $125,000 Keystone Communities Grant from the Commonwealth Financing Authority of the Commonwealth of Pennsylvania for the project.
Board member and chair of the Community Development Committee Robert Jackson is looking forward to the venture.
"We're at the beginning stages, but it's very exciting. We've already accumulated significant funding for it," he said. "It will be a wooden structure for the most part with seating for around 3,000-4,000 and there's going to be some parking created up there."
The Community Development Committee has been planning the project since the end of summer.
"It's just a sketch right now and subject to change, but it's going to be down the northwest slope," said Jackson. "There's going to be tiered seating where people can bring their own seating. There will be a section for disabled folks down at the front of the stage with ramps."
Jackson imagines the amphitheater will be used for musical and other public events.
"With a venue this big we'll have a chance to attract some some top level musical entertainment which we can't really do now," he said. "In the past, we've talked about other venues we could use it, like Portstown Park, but that wouldn't really work because of the trains always going by and making noise. I imagine it would open itself up to other public events for the town, as well, maybe theater or something along those lines. And different groups in town, like local schools or Juniata might want to rent it for an event."
While some parking spaces are expected to be installed at the venue, there are additional plans in place to accommodate the large number of potential attendees.
"We've also talked about having shuttles from downtown that could take people up to the event, and of course people physically able could easily walk there," said Jackson.
The committee has already secured future funding for the project that is expected to cost around $300,000 total.
"There's going to be future private donations, we're just not releasing that information yet," said council member Jonathan Hyde. "It's going to be a multi-phased project, so we'll get it approved and approved and approved. With the total cost, we're obviously not going to want to go into our taxpayer dollars."
"It'll be facing up hill, obviously," said Hyde. "The way, they'll be doing it is so the sun will never be on the stage or the crowd."
The project will very likely begin this coming spring.
"There's enough funding to get well underway," said Jackson.
In many ways Flag Pole Hill is well situated for such a project.
"We're fortunate that we have water and electric already there, and sewage is a nearby hook up so that shouldn't be too big of an issue," said Hyde.
Also Tuesday, council member Jim Bair encouraged the public to come out for the Christmas parade at 7 p.m. Sautrday, Dec. 14.
In step with the holiday spirit, council has agreed to allow free parking in downtown Huntingdon starting Nov. 29 until New Years Day at all the downtown meters.
Borough manager Chris Stevens announced that the proposed 2020 borough budget has been completed and will be made available for public viewing this Friday, Nov. 22.
"There are no increases in fees, no increases in taxes, and you can greatly thank the councilmen and both unions of the borough for being so cooperative in lowering health insurance, uniform costs, that's mostly why it was able to balance with no tax increase," he said.
Huntingdon County planning director Mark Colussy addressed the board regarding an opportunity to work with the Army Corps of Engineers on doing analyses of flood prone areas.
"I know from personal experience that there area folks along Muddy Run where the mapping seems to be different than what people experience with flooding issues. So FEMA (Federal Emergency Management Agency), in order to update FEMA maps you need to have hydraulic analysis done...but considering the Army Corps of Engineers can fund some additional analysis, I thought, hey, why not...there would be no cost to the borough," he said.
Huntingdon Police Chief Jeff Buckley gave an update on the soon to arrive canine officer.
The male German shepherd originally hails from the Netherlands and is currently at a kennel in Sharpsville, where members of the police department visited him last Wednesday.
"Canine X is his name. We don't get to participate in the naming of the animal," said Buckley. "The kennel asked we don't put up pictures until at least we begin the training. And yesterday we secured the vehicle for it. Starting next month, we'll have an officer in the canine training and complete at the end of January and we should then be looking to have a swearing in."
Huntingdon Borough Mayor David Wessels announced the return of a tradition Tuesday night.
"We are bringing back an age old tradition in 2020, the policemen's charity ball," said Wessels. "It will make a return Feb. 1, 2020, at the Huntingdon Country Club. Those tickets are now on sale. Anyone who would like them can contact my office and we'll make them available at other outlets shortly."
The tickets are $75 per person.
"It will be one of the best meals you've ever had and a night of revelry celebrating the police department and our first responders in our area," said Wessels.
The event is to fund the M.H. DeForrest Award, given away every year to a student from Huntingdon Area High School that is pursuing a career in criminal justice.
"We would like to use this charity ball to create an endowment that would last in perpetuity," said Wessels.
Nathan can be reached at nwoods@huntingdondailynews.com.