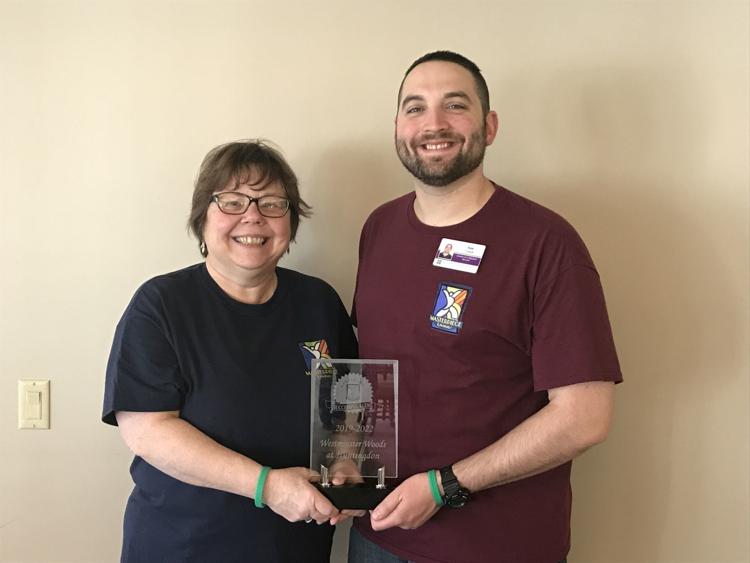 Westminster Woods in Huntingdon has been designated as one of only 23 Centers for Successful Aging (CSA) in the United States.
Sue Deobil, director of sales at Westminster Woods, stated that the designation comes at the end of a five-year journey to improve the lives of residents.
"Our journey (to become a CSA) began five years ago when our community decided to embrace successful aging for all residents," Deobil said. "We looked at how we viewed the aging process and, through Masterpiece Living (MPL), were required to examine our belief system, re-create and establish a culture of growth, engagement, vitality and purpose for all our residents regardless of chronological age and in opposition to negative cultural stereotypes of disease and decline."
To qualify, Westminster Woods was required to fulfill rigorous criteria built upon the basic components of MPL. This involved demonstrating successful again in six areas and fulfilling criteria within each.
"We needed to apply to MPL for this designation and show how we demonstrate successful aging in six areas: leadership, culture, outreach, purposeful programming, resident/member engagement and team member engagement," Deobil said. "Each area has a list of at least seven criteria and requires measured outcomes."
There are some who should be recognized for their personal efforts in receiving the designation. Linda Shultz-Long, director of community life and volunteer services at Westminster Woods, and Kyle Cusick, independent living service director at Westminster Woods, served as co-chairs for the MPL initiative.
"It is an honor to be part of a community – both Westminster Woods residents, team members and Masterpiece Living – who support successful aging," Shultz-Long said, speaking for both herself and Cusick. "(The initiative) has not only changed the face of aging in our residents, it has influenced team members to start to participate in their own successful aging journey."
However, Deobil believes all residents and team members alike were instrumental in getting the community the designation.
"Our residents and team members worked over a year to show how we demonstrate and support the criteria in these six areas," Deobil said. "For our efforts, as a community, we achieved CSA designation the first time around and demonstrated 95% of established criteria, of which we all are very proud."
Chad Evans, executive director of Westminster Woods, stated that the credit to the entire Westminster Woods community, including residents and team members, is well earned; everyone at Westminster Woods played an important role in achieving the designation.
"Everyone who lives and works at Westminster Woods deserves credit for this award," Evans said. "It is about all of us encouraging each other and promoting ways to maximize our potential regardless of our chronological age."
The benefits of the designation can be seen in the increased unity of the residents and team members.
"As a resident, I have seen significant benefit already," said Barb Herrera, an independent living resident at Westminster Woods. "In striving to meet the very stringent requirements to qualify as a center for successful aging, we have become a community in which residents, adminwwefforts and work as a unified team toward mutually identified goals. Westminster Woods has always heeded input from its people, but in meeting the CSA standards we have far surpassed our former level of cooperation."
Benefits, too, come in the form of a bettered reputation in Huntingdon and across the county.
"Westminster Woods can be viewed as a resource to the greater Huntingdon community on the possibilities of aging," Deobil said. "Family members and care partners can participate in successful aging experiences, and the Westminster Woods community can help dispel the negative stereotype of aging as only one of decline."
Westminster Woods was also provided with a physical award for the designation. It is currently on display in the entrance to the Oaks skilled nursing facility on campus.
Looking forward, Westminster Woods's CSA designation will be re-evaluated every three years. Deobil believes their continued efforts will allow them to maintain it.
"With the growing older adult population, Westminster Woods continues to have a positive impact on the residents we serve in our own community and the greater Huntingdon community," Deobil said. "Ultimately, we hope to have a positive impact on public policy and the way we treat our aging population. Our mission statement, combined with (our) advocacy for the possibilities within the aging process, positions our community to be advocates of positive change — one person at a time."