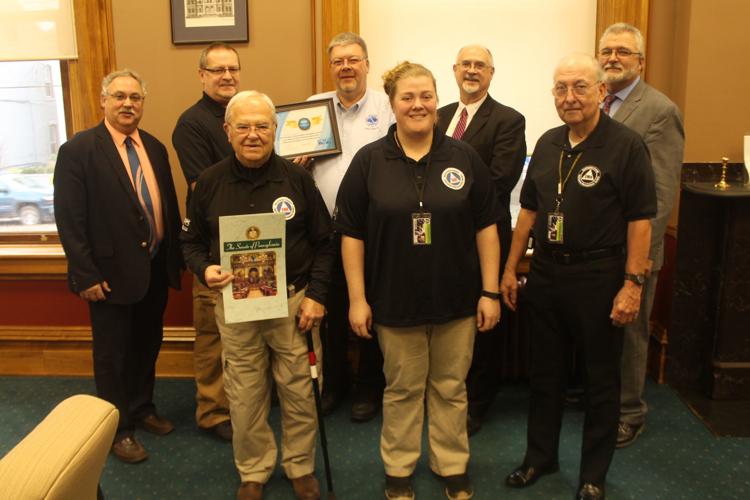 After being tabled last week, pending review from the treasurer's office, a $1,750,000 tax application notice (TAN) for 2019 was approved by the Huntingdon County Commissioners at their weekly meeting Tuesday morning.
Bids from four banks were opened during the Nov. 27 meeting by solicitor Peter McManamon, but the decision to vote on them was tabled until Tuesday because county treasurer Susan Harry was out of the office at the time.
The bids received were from First National Bank for 2.69 percent interest and 2.10 percent interest if deposited in an interest-bearing account; Juniata Valley Bank for 2.81 percent interest and 1 percent interest if deposited in an interest-bearing account; CBT Bank for a variable interest rate of 3.383 percent and with Community State Bank for 2.599 percent interest, but with no interest-bearing account; and MCS Bank for 3.85 percent interest.
Following a suggestion from Harry, who was present at Tuesday's meeting, the commissioners unanimously approved Community State Bank for the TAN and First National Bank for the 2.10 percent interest-bearing account for the deposit.
Commissioner Scott Walls noted the TAN is a yearly loan taken out to cover the costs until tax revenue starts to come in each year, and it's required by law to have the TAN paid off by the end of the fiscal year.
In speaking of other fiscal matters, board of commissioners' chair Mark Sather announced the proposed 2019 county budget is now available for review.
"The budget was officially advertised Nov. 30, and a budget hearing will be held in the commissioners' meeting room (at the Huntingdon County Courthouse) at 7 p.m. Tuesday, Dec. 11," said Sather. "We plan to take action on the budget at 10 a.m. Thursday, Dec. 20."
Also Tuesday, Joe Thompson, county emergency management agency director, along with EMA staff, were presented with the Ambassador of Excellence certificate from the National Weather Service for being a WeatherReady Nation agency by meteorologist Peter Jung.
Thompson also noted he and his agency were issued a citation from state Sen. Jake Corman for the same honor honor.
Thompson was also at Tuesday's meeting to gain approval to submit the Hazardous Mitigation Grant application from the state Emergency Management Agency.
"We're updating the existing multi-jurisdictional hazard mitigation plan, which is required to be updated every five years," he said. "The last time it was updated was in 2015."
Thompson noted the estimated project cost, which includes updating the plan for weather-related incidents, hazardous materials spills/emergencies and several other natural and man-made disasters, will cost approximately $50,000.
The planning grant program will provide 75 percent of the cost, with the county expected to match 25 percent with funds or in-kind services.
The commissioners also approved executing the Housing Preservation Grant from USDA, which the county received earlier this year.
"We received $71,718.23, which is more than what we applied for," said county planning director Mark Colussy. "We originally applied for the maximum, which was $50,000, but we learned we were getting more when USDA said they had the confidence we were going to use these funds."
Melody Mason, community development grant administrator, noted the county planning department is working with other agencies, including Weatherization Inc., Center for Community Action and Huntingdon Area Habitat for Humanity to find those who are in need of emergency repairs that fall under income guidelines.
"This is based on need, so the most-needed cases will be priority," she said. "This doesn't have the restrictions other grants do, so this allows us to help low-income residents."
Mason said she plans to meet with representatives from the other agencies in the new year to get started in earnest.
"This is a two-year grant, so it will expire in December 2020," she said.
Celina Seftas, manager of the Huntingdon County Conservation District, also gained approval for an updated memorandum of understanding to be approved by the commissioners, which includes ways the county and the conservation district work together through programs like ag land preservation.
As part of the memorandum of understanding, the county's solicitor will also be legal counsel for the conservation district in matters dealing with ag land preservation.
The commissioners also approved a proposal from Forensic Pathology Associates for autopsy and associated fees for 2019.
County coroner Paul Sharum explained the firm will only be used on an as-needed basis if closer doctors are unable to perform autopsies.
A contract renewal between the county jail and Mainstream Counseling was approved for services for 14 hours a week for $48 per hour for 48 weeks, or $32,256 total for 480 units.
The termination of county custodial staff member Graham Wright was also approved, effective Nov. 27.