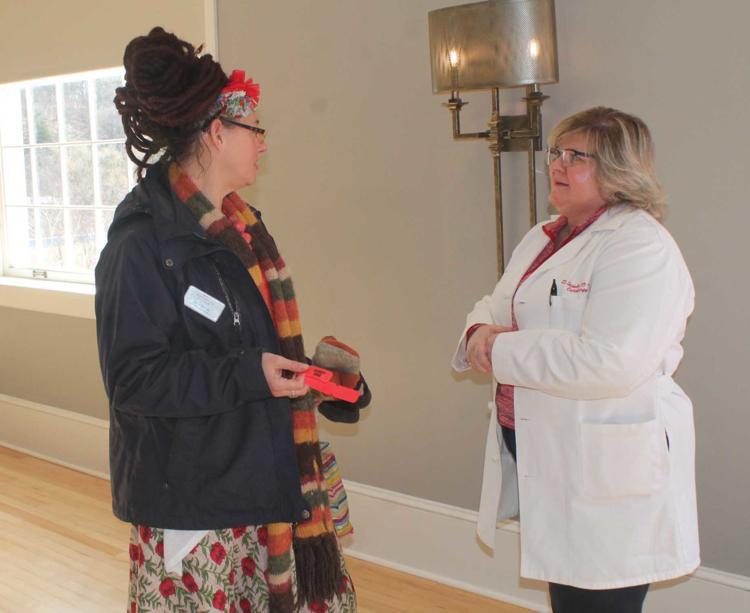 Emphasizing the importance of heart health, especially for women, Valentine's Day was the perfect day to hold the 13th annual Wear Red Luncheon Friday at the Ellis Ballroom at Juniata College.
Sponsored by the Penn Highlands Huntingdon Auxiliary, the event talked about how stress impacts heart health and what can be done to help alleviate stressors to improve heart health.
Dr. Michelle Stoudt, cardiologist with Cardiology Associates of Altoona and the Penn Highlands Huntingdon Cardiac Care Center, was the guest speaker for the event. She started out by explaining what stress is and the biggest causes of stress.
"Stress is a mental and emotional strain caused by adverse circumstances," she said. "Some of those adverse circumstances can include death, divorce, imprisonment, personal injury or illness, dismissal from work and marriage."
Some of the most stressful jobs include vocations like being in the military, surgeon, physician, mental health counselor, law enforcement and paramedics.
Stoudt also discussed how stress directly impacts the heart.
"It's through adrenaline, which is a cascade of chemicals that lead to stress," she said. "It creates that fight or flight response, which can be good for some situations, but these surges create catechlamine surges, which have a direct effect on the blood vessels, which change the plaque formation in the vessels."
She noted there are two types of stress, chronic and acute, but chronic stress is more likely to contribute to heart disease.
Type A personalities, which are known to be more competitive, goal driven and have more of a temper, are also more likely to have stress contribute to heart disease than Type B personalities, which are less impacted by stress.
Though other factors like high blood pressure, high cholesterol, smoking and lack of a good diet and exercise plan are big contributors to heart disease, Stoudt noted that when someone has a heart attack, a patient is likely to say that stress was the biggest cause.
She also noted there's evidence that acute stress can also lead to incidents of heart attacks, and cited studies that show correlations between a higher number of heart attacks and stressful situations.
"In 1991, when they were launching missles over Tel Aviv, they expected around 93 deaths due to heart attacks, but there were really 149 actual deaths," said Stoudt. "Also, during Hurricane Sandy and Katrina, there was a 22% increase in the number of heart attacks that occurred compared to the same week in other years, and there was also an 8% increase in the number of strokes."
Stoudt also discussed Takosubo Stress Cardiomyopathy, otherwise known as Broken Heart Syndrome.
"This can happen during times of extreme emotional stress, like a death of a family member or loved one, at a funeral, after a car accident, or even good events like a surprise party," she said. "This happens more often in women, particularly postmenopausal women.
"The stress impacts the heart muscle, and it's almost like a heart attack," Stoudt added. "It's been shown that the LAD (left anterior descending artery), or the widowmaker artery stops working when this occurs and causes the syndrome. When it stops working, this needs to be treated with heart medication just like any other kind of heart condition. This condition is the cause of 2% of heart attacks."
Stoudt noted that stress is often the least discussed issue surrounding heart conditions among cardiologists, but she believes it should be factored in, just as other factors like high blood pressure, cholesterol, diet, exercise and smoking are discussed when talking about things that may cause heart disease.
When it comes to controlling stress, Stoudt said it's important to "control what you can control and fix what you can fix."
"You can do that by controlling your blood pressure, cholesterol, smoking cessation and treating anxiety and depression," she said. "Also, you can do coping mechanisms to alleviate stress by spending time in nature, meditate, ready/study in the sunshine, make a bucket list, and if you need to be treated with medication for anxiety and depression, do that as well."
Stoudt ended by noting that one out of every three women die of cardiovascular disease each year, and women often experience symptoms that are atypical, causing people to dismiss their concerns.
"Just because a person doesn't fit the norm, doesn't mean they don't have it," she said. "But, (women) are the ones who are more likely to die from it. Symptoms are atypical for women."