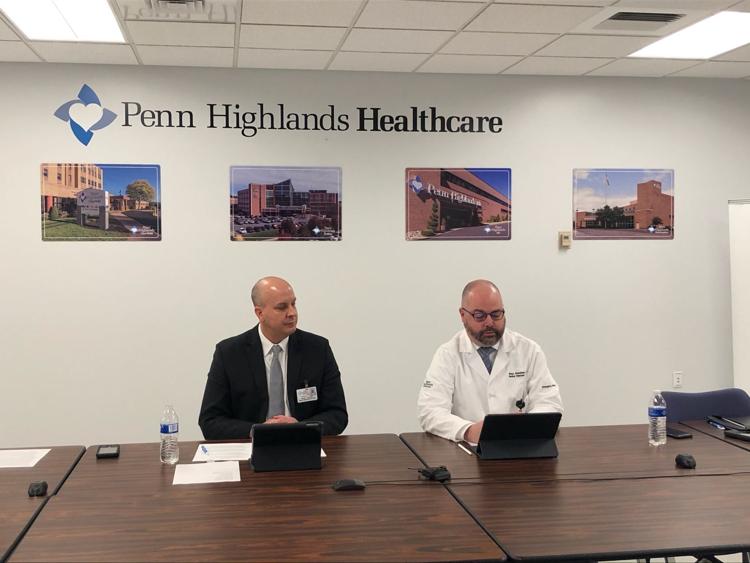 The Penn Highlands Healthcare health system, which serves Penn Highlands Huntingdon, continues to prepare and brace themselves for more cases of COVID-19, the disease caused by the novel coronavirus, and will continue to do what they can to make people safe.
Clearfield County, where the Penn Highlands Healthcare hub is located in DuBois, had its first confirmed COVID-19 case, and Shaun Sheehan, director of the COVID-19 task force, noted in a conference call update Tuesday that the patient is currently not in a Penn Highlands Healthcare facility, and all measures are being taken to protect staff, patients and the community at this time.
Also during Tuesday's call, Mark Norman, chief operating officer for Penn Highlands Healthcare, thanked the entire staff for their dedication under what he called, "unique and trying circumstances," as well as the communities where hospitals and other facilities are located.
"Everyone has worked together to try to manage the situation," he said. "I also want to thank the community. We've had so many people reach out to us."
He named just one example where the DuBois Area School District has donated N-95 masks, surgical masks and other equipment needed.
"It's great to see the community pride," said Norman. "Are communities are resilient. Together, we will make it through this period."
Norman also discussed the fact that a COVID-19 task force was implemented earlier this month to tackle the challenges the health system will face as a result of this highly contagious coronavirus.
"We are prepared for this situation," he said. "Our top priority at Penn Highlands is to keep our patients safe."
He also acknowledged the additional measures regarding visitor restrictions in the wake of COVID-19.
For Penn Highlands Huntingdon specifically, if patients are experiencing symptoms, they should call their primary care provider, and those without one should call the PHH Call Center at 814-375-6644 between 8 a.m. and 8 p.m. Mondays through Saturdays, and 8 a.m. to 5 p.m. Sundays.
Those who do qualify will give a code to patients to go to a QCareNow app for additional screening, and those without smartphones, tablets or computers will have arrangements made to talk via telephone to a provider. At that point, a provider will further determine if a patient should be tested and create a testing order.
If a patient does need testing, they will then go to the QuickLab on the Penn Highlands Huntingdon campus, and arrangements will be made to keep patients outside and in vehicles. No walk-in testing will be accepted.
He also noted that they are educating staff on personal protection equipment and how to properly use it, and they've been implementing self monitoring for staff.
"This includes temperature checks and we're canceled elective surgical procedures," he said. "We've also canceled support groups and public events as well non-essential meetings. Essential meetings are done by teleconference."
Norman stressed the importance of donating blood in this critical time, as well as critical supplies needed to prepare for any volume surge of patients due to COVID-19.
Items they are asking for donations of include N-95 respirator masks, face masks, surgical masks, exam gloves, isolation gowns, head covers, shoe covers and Sani-Cloth wipes.
"If anyone knows of anyone who is willing to help, please let us know," he said.
Sheehan said they continue to make decisions based on the guidance from the state Department of Health and the Centers for Disease Control.
As far as testing, only around 100 tests have been performed thus far throughout the entire health system, all tests that have come back thus far, except for one, were negative.
A new test has just come online for the laboratories used by Penn Highlands Healthcare that will net faster results, but the test is limited.
"It's a short test, which we will have results in 48 hours," he said, noting the previous test concluded results wouldn't come back for 7-9 days.
"We are still following the DOH and CDC guidelines for testing, and they are tiered guidelines," said Sheehan. "We're currently limited by the number of tests we can perform, so it's important to follow the current recommendations. If you have symptoms, you need to stay home, contact your primary care physician and follow the recommendations. Not everyone needs to come and get a test. Only individuals who qualify under the guidelines will receive a test."
Norman said that in a staffing standpoint, people can be moved from some areas to other areas, as elective procedures have been canceled, to places where they're needed as patient volumes in facilities fluctuate.
While they currently have enough personal protection equipment, Norman said they are conducting an analysis of how long that would last before supplies dwindle.
"We continue to add to inventory as we can," he said. "We'll have a better idea in a day or two."
Sheehan said they've also found ways to secure additional ventilators and repurpose current machines in operating rooms to use as ventilators as needed.
"We have the ability to expand capacity," said Sheehan. "That's a great thing."
Sheehan said current patient volumes are down throughout the entire Penn Highlands Healthcare system, which is a good thing if patient volume surges as a result of COVID-19.
For details on how to make a donation of personal protective equipment, visit www.phhealthcare.org/news/penn-highlands-healthcare-news/penn-highlands-healthcare-welcomes-medical-supply-donations?fbclid=IwAR3254jSFX6FFuemYGepsdf-EwVPg3M0XPxKnP_ZwFFTg5HBFBpM7BeBP-A.